Join the Klaviyo Community's Black Friday Cyber Monday monthly challenge and gear up for the ultimate weekend of holiday marketing! We're thrilled to present a series of exciting challenges each month leading up to BFCM, designed to supercharge your preparation. By actively participating in these challenges, engaging with fellow members by providing feedback and likes, you'll earn valuable points along the way.
🏆Prizes to be won!🏆
At the conclusion of the BFCM challenge, November 24th 2023, we'll reward our top 3 participants with an exclusive opportunity to receive:
a personalized one-on-one account audit session with a Klaviyo expert. 
invitation to join one of our highly sought-after community Superuser group virtual meetups.
Get ready to unlock your full potential, gain valuable insights, and network with the best in the industry. Join us in the Klaviyo Community's Black Friday Cyber Monday monthly challenge and let's power up your BFCM success together!
Your next challenge if you choose to accept it is: Planning BFCM campaigns.
Before we dive into step-by-step planning, let's establish what good email segmentation looks like before your final quarter begins.
If you're able to start planning for Black Friday Cyber Monday now, you can take steps to prime your email list for Q4. You can start preparing your email and SMS lists for BFCM segmentation in a few ways.
Wei Tan, co-founder, The Orchard Agency say to "Start your BFCM email marketing campaigns early with a pre-sale registration campaign and entice your subscriber base to sign up to upgraded offers or early access to the sale," he suggests. "This gives you the added benefit of communicating to a smaller but highly active audience, boosting email deliverability and improving your sender reputation."
When your email and SMS subscribers sign up for early access, they're giving you permission to contact them before BFCM is on anyone's radar. Consider the opt-in a signal that someone is more interested in your brand than someone who subscribed to a general list a while back—these are the people you'll want to engage with the most when Black Friday Cyber Monday rolls around.
Even more important, however, are your existing customers. According to Klaviyo data from BFCM 2021, the same group of consumers is spending 16% more on purchases with online stores they've shopped at previously.
So how do you communicate best with highly interested people? Every brand is different, but here's a high-level, step-by-step process to get you started:
Step 1: determine your BFCM offer

Black Friday Cyber Monday is known for steep discounts, but that doesn't mean they're your only option. Last year, the average BFCM discount was 24%, which was 2-4% down from previous years.
Depending on the current state of your financials, you may want to offer something other than a margin-killing discount, like a:
Holiday product launch
Limited-edition bundle or collection
Free gift with purchase
Contest
Partnership offer
Donation incentive
Step 2: Stay focused on actions that will move the needle. Follow our planning calendar.
Maximize results by adding BFCM campaign recommendations directly into your Klaviyo campaign calendar view: (click the gear icon in the campaign calendar and select the Klaviyo BFCM Guide)
You can also add the entire 2023 BFCM calendar—with strategies, campaigns, and more—to your personal calendar to easily stay up to date: Add to Personal Calendar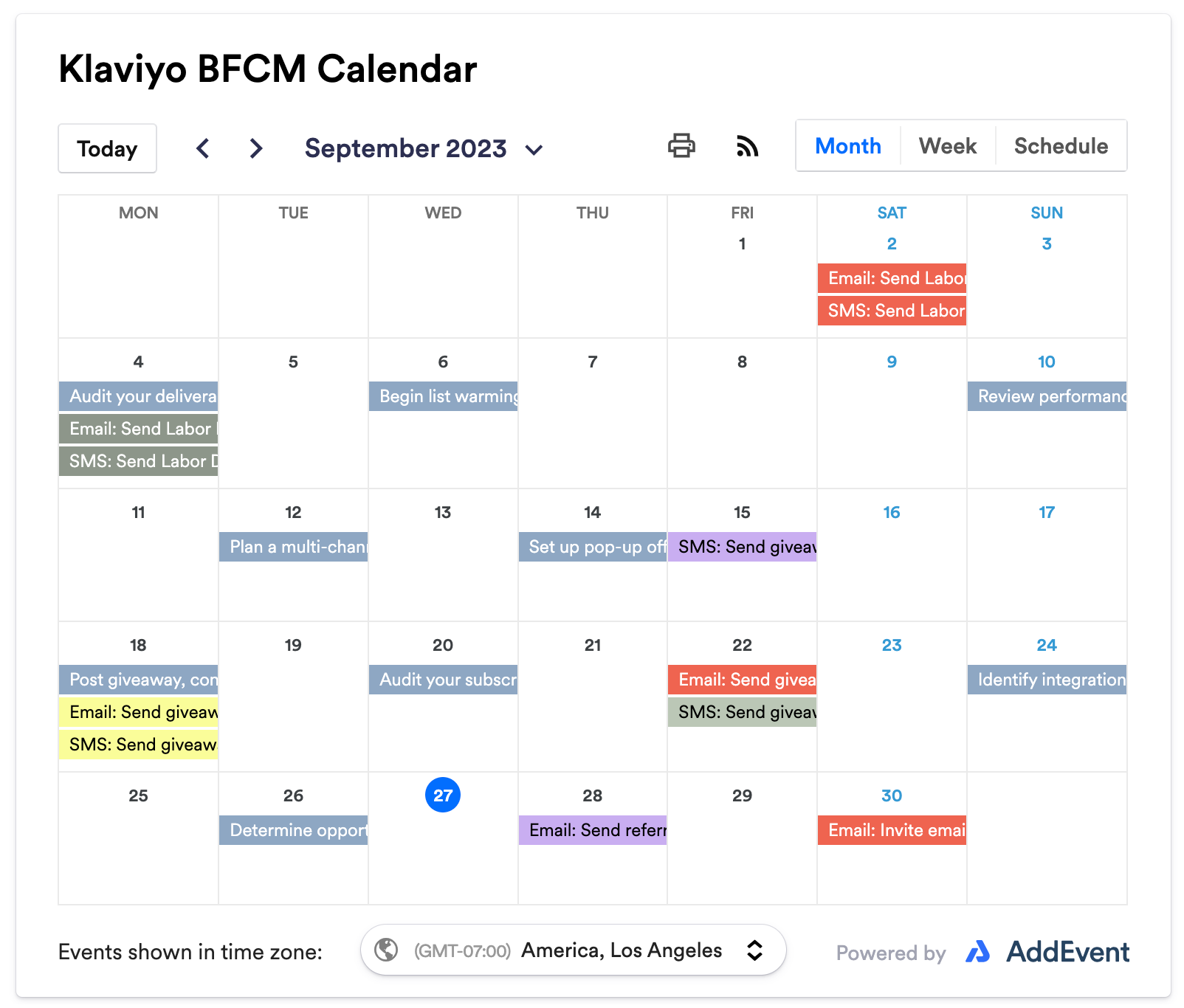 Step 3: Let segmentation drive your BFCM messaging
During BFCM, every brand is competing for attention (and share-of-wallet) from subscribers. It's no secret that the hardest part of converting a customer through digital channels is grabbing their attention in the first place. Brands have the most success generating engagement and revenue when they build their marketing strategy around segmentation. 
You probably sell a variety of products across a few categories and target at least a handful of different customer personas. Even if you only have 1 target persona, you can split that audience into a few separate groups based on their budget or buying patterns. 
If you want to increase sales and get products off the shelves this holiday season, you have to craft your messaging around the factors that influence your customers' decision to purchase. Those key factors are:
Budget/willingness to spend
Convenience
Motivation or specific need
Level of urgency
Since this is gift-buying season, you'll also have the opportunity to expand your customer base to otherwise uninterested buyers. Let's explore some more specific holiday buyer personas who you can target with tailored messaging. Check out the Playbook: Use winning segmentation strategies for BFCM!
Once you've determined your offerings, added the BFCM calendar, and assigned segments, find even more resources—including guides, trainings, and success stories—to plan and execute your best BFCM yet, updated monthly to keep you on track. Additional BFCM Resources
Once completed, share your plan and strategies with other community members to help provide insight or seek feedback to make BFCM 2023 your best yet!
When you have shared, you will be entered to win one of our top prizes!