Hi Community, 
So, the first email in our abandoned cart flow (sent 2 hrs after the trigger) is a text based email that is short and meant to seem like it came from an employee. 
We actually get quite a few people who respond to the email (the last line tells them to hit reply if they have any questions).  This email format does quite well when we test it against others. 

Thinking about the experience when in the customers shoes, we don't want to send them the other emails in the flow if they've responded to the first email with a question (it would be kind of off, for example, if this was a real-life interaction - it would be like we have amnesia!).
What we do is have our customer service team go in an tag their profile as "responded" and then include in the flow filter to only allow those that haven't responded or not placed an order since starting the flow (among others)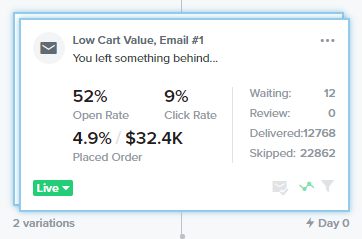 This is the email from the above:
Curious, does anyone else track subscribers who've responded to filter out of flows? How do you do it? Always looking for better ways to improve processes.