Hi there! 
I have configured the Klaviyo add to cart metric in my shopify. I would now like to create a single flow abandoned cart (klaviyo) + abandoned checkout (shopify) to avoid two emails being sent if the person abandons their cart and abandons the checkout. 
I would have liked to be able to choose two entry triggers in a single flow. "add to cart" or "abandoned checkout" but I don't think it's possible. 
Does anyone have an idea? 
Thanks a lot
Best answer by Manny Singh 22 June 2021, 03:21
Hi @audette !
If I understand your question correctly, it sounds like you want to trigger a flow earlier in the checkout journey (when the customer adds to cart but may not get to the checkout area yet), is that correct?
If so, you won't be able to have multiple triggers in one flow.  So, I would recommend setting up two flows: Abandoned Cart, Abandoned Checkout (you can find these in the Klaviyo flow library).
The Abandoned Cart Reminder flow template will have the filters in-place to make sure your subscriber doesn't go through both flows at the same time.  If it doesn't have the filters, here's a screenshot to show what you can put in-place: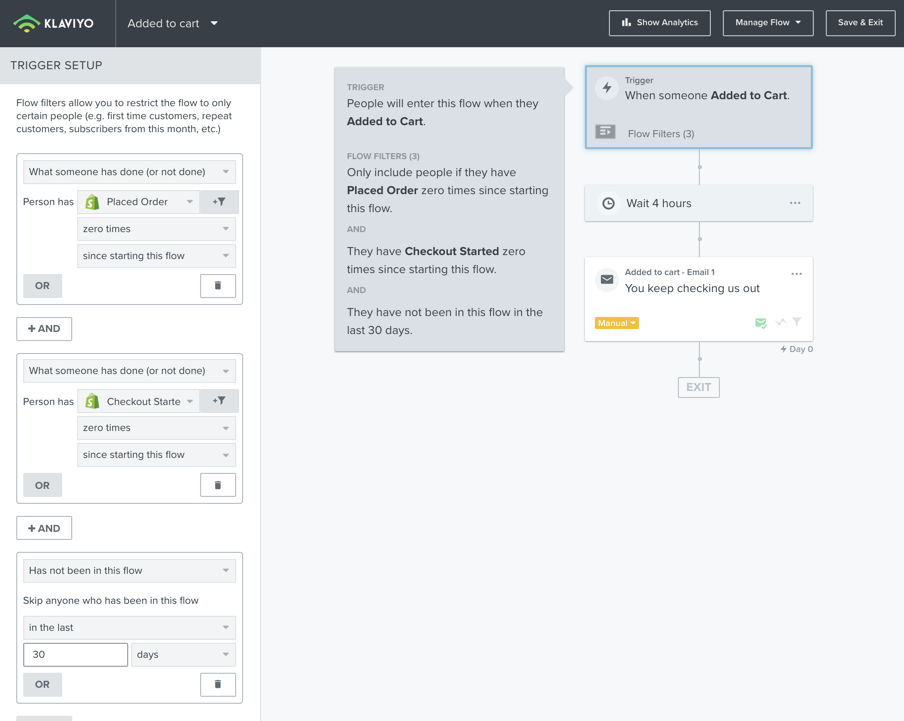 One other thing to watch out for is if you have a Browse Abandonment flow.  Here's a good help article on it:
https://help.klaviyo.com/hc/en-us/articles/115001396711-How-to-Create-a-Custom-Added-to-Cart-Event-for-Shopify
Hope that helps!
View original