For anyone with an abandoned cart flow longer than two days, what is your call-to-action for the emails later in the flow? Curious to know if you're linking to the cart or the shop page.
At our website, shopping carts are saved for roughly 48 hours. Once we lengthened our abandoned cart flow, it did not make sense to always direct people back to their cart, because for many people, it would be empty.
Emails sent within the first 48 hours direct to the cart page, and email sent any later than that are directed back to our shop to add the item back to their cart.
Curious to see if anyone else is directing people to the shop instead of the cart for abandonded cart emails that send more than a few days later.
Backstory: We are an e-commerce company that sells premium-priced technology, upwards of $400. So it was worth it for us to lengthen our abandoned cart flow to keep encouraging prospects to purchase (offering free shipping or a coupon code after several days of no conversion).
Best answer by Omar 17 November 2020, 10:20
@kari in such a case it might be handy to have a way to (re)generate the cart (session) again.
What platform are you on? Maybe you could add a link to the products or have a link that auto adds those products to the cart again.
With Shopify and woocommerce you're able to get the session back so it would also work crossdevice and longer than 48h. 
As for CTA we mainly try to increase motivation as time passes. basically using the BJ Fogg model below. When motivation is high and (perceived) ability (to perform an action) is low enough someone will take action. That either means increasing motivation or increasing their perceived problem. It can be copy or discount or something extra (get a free x with your order… ) in those additional emails.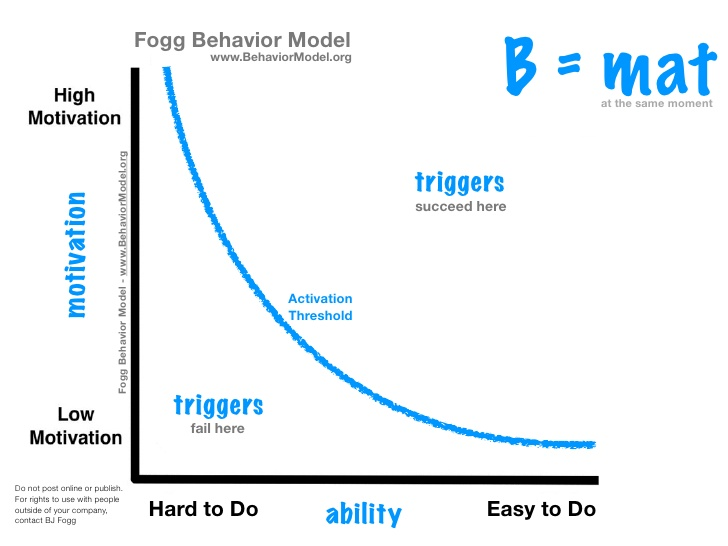 View original