I paid someone to set up all my flows and not sure if the Welcome flow is right.

On the Welcome flow, there are 3 emails scheduled to go out. (See attachment)
(1st) Immediately:  Customer gets 20% discount code that expires in 7 days.
(2nd) Wait 3 days:  ... gets reminder to use their code before it expires in 4 days.
(3rd) Wait 4 days:  ... gets friendly reminder that code was expiring at midnight.

Question:  
1) According to the attached Welcome flow, if customer uses coupon on the first day, does 2nd and 3rd email automatically stops or is there supposed to be filters in there somewhere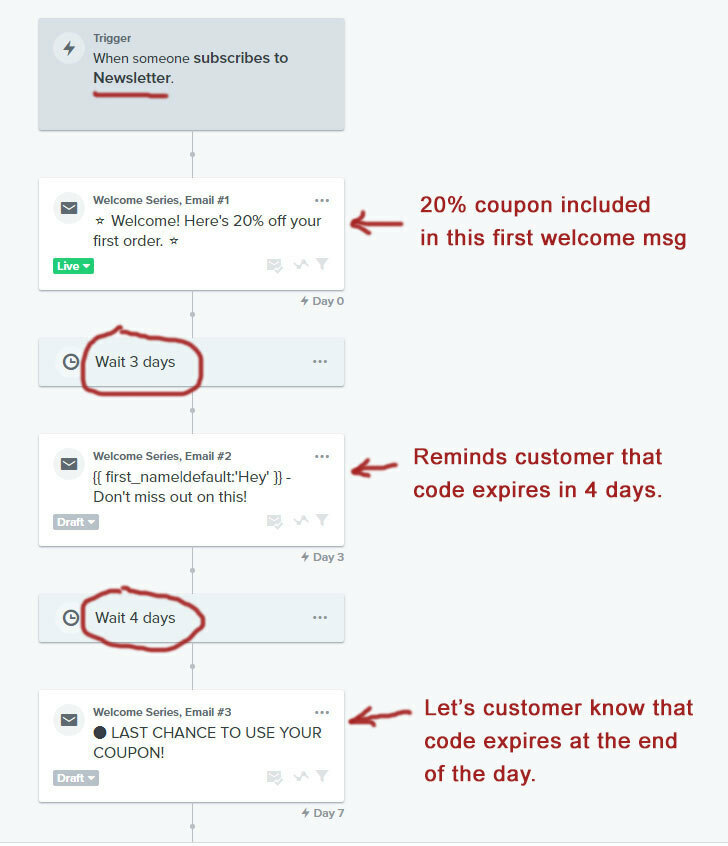 to stop the remaining 2 flows from going out?

2) If customer buys after receiving the 2nd email, does the the 3rd email automatically stops or is there supposed to be a filter before the 3rd email to stop it from going out?
Best answer by Dov 14 June 2021, 16:52
Hello @jess,
Thank you for sharing your question with the Klaviyo Community.
I will address both of your questions here. First, I am prefacing the answers based on the assumption that all flow emails will be in live mode. In your flow's current state, (according to your screenshots) since only the first flow email is live, users would receive email 1 but skip over email 2 and 3 because they are in draft mode. Emails in draft mode will always be skipped until their status is updated to manual or live.
If a customer uses a coupon code, the flow will not automatically remove them without any filters present. Also, in terms of excluding people from flows who use coupons -- Klaviyo can only filter people out of the flow who use a static coupon code. In this case, you would specify the static coupon code name in the flow filter using the "Discount Codes" condition like the following screenshot: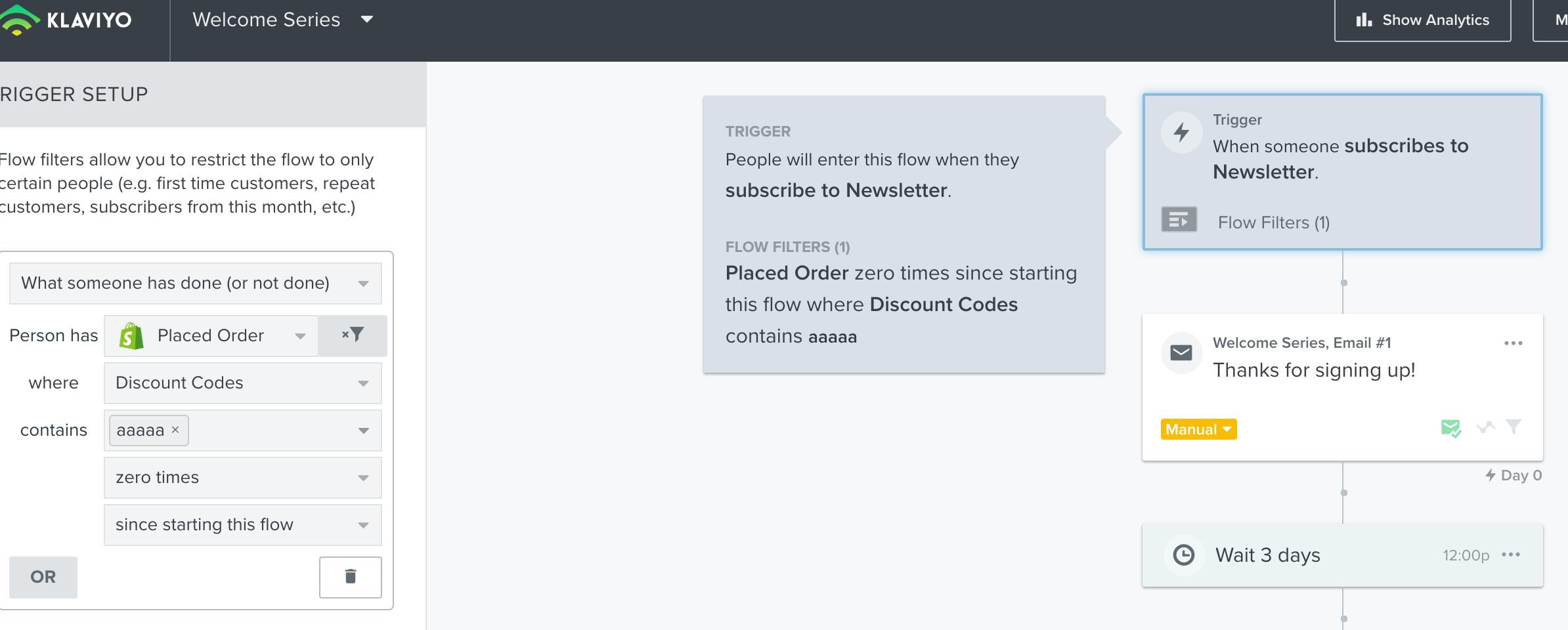 If you generated unique coupon codes using Klaviyo, you will not be able to filter users out of the flow based on them using the specific coupon. However, you can add a flow filter: What somebody has done > Placed Order zero times since starting this flow. This will automatically filter out anyone who places an order while going through this flow because flow filters are evaluated before each email is sent in the flow. Flow filters would also apply to any new-new emails you add to the flow at a later time, if you choose to do so.
I hope that helps! Thanks and have a wonderful day.
View original