I wanted to know if it is possible to insert a trigger within a flow that is activated when a user clicks on a specific link.
A platform that I use in addition to Klaviyo for ecommerce management allows me this works.
I'll give you an example.
At the end of a first welcome email I would like to ask the reader to receive the next email in the flow without having to wait for a specific delay but simply by clicking on a link.
This way you will immediately receive the next email in the flow without having to wait.
I tried to insert the "if click" trigger but unfortunately the email is always sent based on the delay inserted in the flow.
If this function doesn't exist yet it would be nice to be able to insert.
There are readers who want to consume the whole Soap Opera Sequence immediate. 
Best answer by julie.accardo 13 March 2021, 18:11
Hi @Vincenzo Cassese,
I would recommend testing this out by setting up a signup form that routes users to the list you want to use to trigger this messaging. You can then set up a flow to trigger when someone is added to that list. This flow will trigger immediately with the initial email with the link after a user has been added to the list. You can then add a time delay of 5-10 minutes (however long you expect it will take for the recipient to read the first email and get to the link). You can set up a conditional split after the time delay that says "Has clicked email at least once where the URL equals X since starting the flow." Right after the conditional split down the "YES" path, you can add that second email  (make sure to turn smart sending off for this second email) which would hopefully trigger for those users that clicked the link.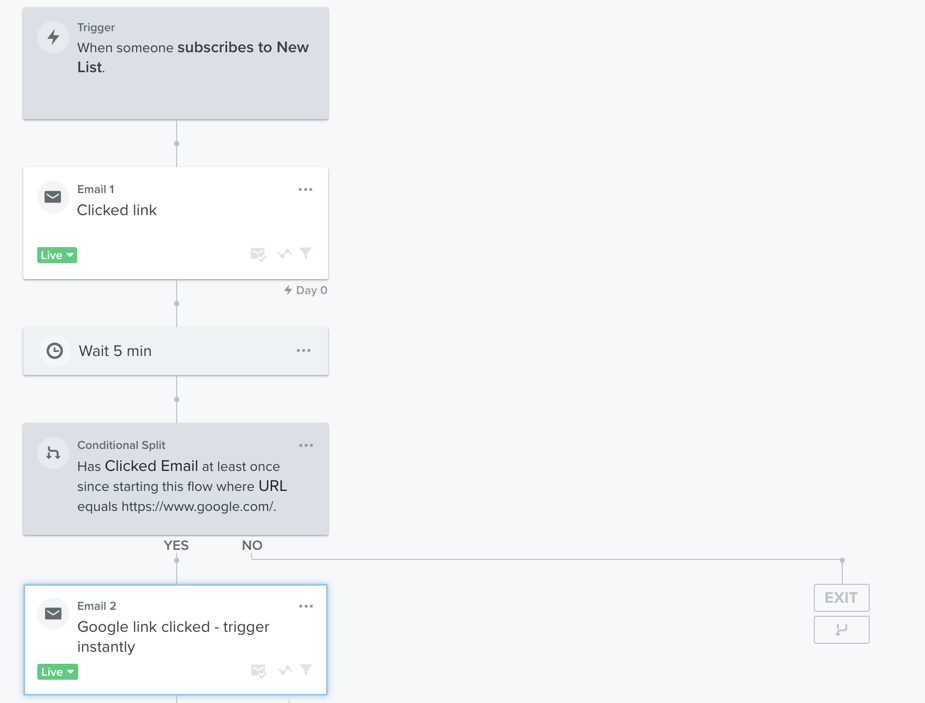 Hope this helps! Happy testing!
Julie
View original