Hi there!

I have an existing segment called "Win-Back Opportunities" with 876 subscribers which was auto created for me at the time I signed up with Klaviyo. 

I set up a Customer Winback flow through which I would like to have the series of emails be send out to all of those 876 subscribers right away (or at least the first email in that flow should be send out right away). 
However, I don't see any emails having been sent out yet nor any subscribers being queued in, i.e. in "Waiting". 
Does anyone know what I'm doing wrong here? 
Thanks so much!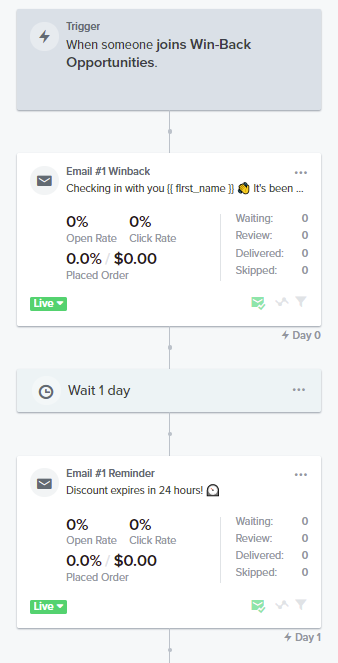 Best answer by Bobi N. 30 April 2021, 10:00
@aina 
Flows don't work like that. That is why we have flow TRIGGER.. when it comes to lists or segments the trigger is when someone is added to list or segment. And because when you created this segment the people were already in it they wont trigger the flow. The only people who will trigger the flow are new people that will enter in that segment..
How we usually set up Win Back flow is.. trigger placed order and flow filters placed order zero times since starting this flow, also you can add flow filter or email filters has never been in this flow or email filter has never received this email before  if you want.. and than before the first email add 180 days time delay
so when someone place an order they will enter the flow.. than they will wait 180 days to receive the first email, but they will only receive it if they haven't placed an order in that time while they were waiting.. 
View original