Hello,
I'm setting up 2 flows - a welcome series and an abandoned cart flow.
By default, could a user be in both of these flows at once? Eg. The receive welcome series email 1, go to website, add to cart and abandon that cart, triggering the abandoned cart flow. Would they stay in the welcome series flow?
If they could be in both, how can I stop this from happening?
Thanks
Best answer by david.to 23 May 2021, 19:52
Hello @ChristinaD,
Customers can certainly trigger multiple flows and be going through multiple flows at once. 
You can prevent this from happening by either utilizing Klaviyo's Smart Sending feature or by using flow filters. Smart Sending allows you to limit the number of emails or text messages someone can receive from you in a period of time. By default, the Smart Sending feature is set for 16 hours within your account. Meaning that if smart sending was enabled on an email, customers who have previously received an email from your account in the past 16 hours, they would be skipped for this specific email. This is a good way to prevent your subscribers from receiving too many messages at once if you have many active flows and campaigns. In this case, if you wish for customers who are going through your Welcome Series flow from receiving the Abandoned Cart flow, you can enable Smart Sending on the emails in your Abandoned Cart flow.
You can also adjust this Smart Sending time frame to be lower or higher by navigating to Accounts > Settings > Emails and adjusting the timeframe in under the Smart Sending Period setting. 
Alternatively, you can use a flow filters applied to your Abandoned Cart flow such as "What someone has done, Received Email where Flow equals X (Name of the flow you wish to exclude) zero times in the last X days". This sort of flow filter would allow you to exclude customers who have received emails from a specific flow. Using this flow filter while designating your welcome series flow would ensure that if a customer has been receiving emails from your welcome series flow in a given time frame would be excluded from this abandoned cart flow.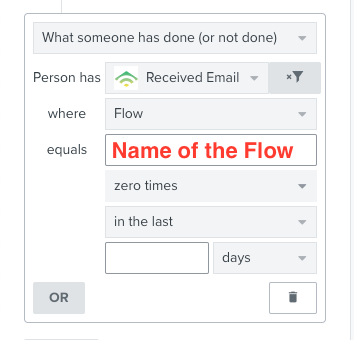 Hope this helps!
David
View original