Hi,
My automation email when sending to myself, It won't show the image unless I press the button "display image". Is there a way to automatically show the image?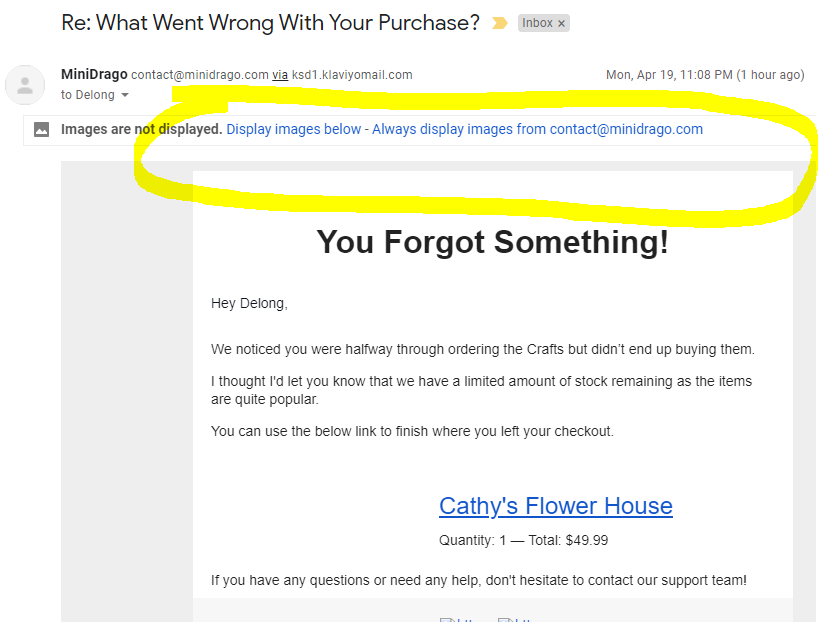 the email I got from others seems like is from a image link or something. This below email I don't need to click "display image below" in order to show the image.
Does anyone know why?
Best answer by Dov 21 April 2021, 15:01
Hi @delonghuang,
Thank you so much for sharing your question and exploring the Klaviyo Community for some solutions.
First, it sounds like this issue is only occurring when sending to yourself, correct? If so, I recommend clicking "Always display images from contact@minidrago.com" (rather than display image below) and see if this resolves the issue.
If you are noticing that this issue is occurring for other emails, it is likely due to your current Gmail settings. In this case, I recommend navigating to your Gmail settings and clicking always show images enabled for Gmail.
Lastly, if this email was in the Junk or Spam folder, it is expected that images will not display. In this case, you can simply drag and drop the email from your junk or spam folder into your primary inbox.
Thanks and have a great day.
View original