I had edited the last email in my welcome series flow and accidentally deleted it! (Oops).
I just replaced it and I'm wondering if I can reload all of the people it was waiting to go out to? (Only about ~15-25 people).
Best answer by Dov 6 April 2021, 18:20
Hi @Nikki,
Thanks for sharing this question with our Klaviyo Community.
Also, thank you @Bobi N. for your reply, you are absolutely on the right track with the idea to backpopulate the flow.
I want to preface this reply by saying that my proposed solution will only be applicable to list or segment triggered flows. In your case, you mentioned the welcome flow which, in the vast majority of cases, is list or segment triggered.
With that said, if you navigate to the flow and click on Manage Flow > Back-populate Flow Recipients and select the bottom radio button "Schedule for each step relative to when I click the back-population button". Generally speaking, this will schedule users from the top of the flow. Except, if the user has already received emails in the flow. In this case, they will actually skip over the emails they've already received and queue up for the next email in the sequence. For example, if user A received welcome series flow email A but did not receive welcome series flow email B because it was deleted, backpopulating using the option I described above would queue them up for flow email B. If flow email C exists, they would subsequently be queued-up for that email and so on.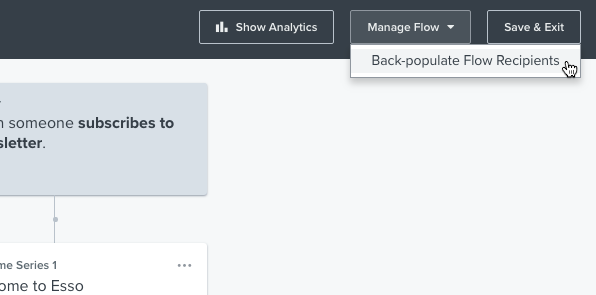 Thanks, and have a great rest of your day.
View original