Hello,
I am just getting familiar with Klaviyo. I have set my abandoned cart flow and also an email subscription flow. Both are working fine, after a few days at least. So I am getting familiar.
Also worried.
I had been working with Mautic for years prior to switching to Klaviyo.
I am only saying this because I am used to running email drips triggered on a certain date.
Now I thought Flows would have that capability but I can't seem to find it. 
What I need to do is send two types of emails on a certain day in the future.
•    Email A goes to buyers of a product (a simple offer with a discount). 
•    Email B goes to those visitors of a product page who haven't yet bought the product (thus it has more content, mainly more awareness with an offer as well).
After sending these two types I wait till Friday the send both groups an Email 2, which is a reminder that the offer is about to expire.
Now it is easy to set this flow in Klaviyo, apart from a start date.
I want to be able to say, start this flow on Monday such and such.
I can't do this with Campaigns because I can't even set conditions.
Is there another way to work around that?
Below is an image of a typical campaign.
On the top are segments I include in a campaign (drip).
Next is a condition that separates buyers from product viewers.
Then come Monday emails to buyers on the left side and visitors on the right. The email send date is actually defined there.
Then there is a condition (Opravljen nakup) that excludes those who have bought a product during the campaign. Everybody else gets drip2 which is a reminder the offer is about to expire.
Hope it makes sense.
So again how can I set a date as a trigger of a flow?
Or is there another way of doing it.
Thanks.
PS. Forgive my English. Not my native.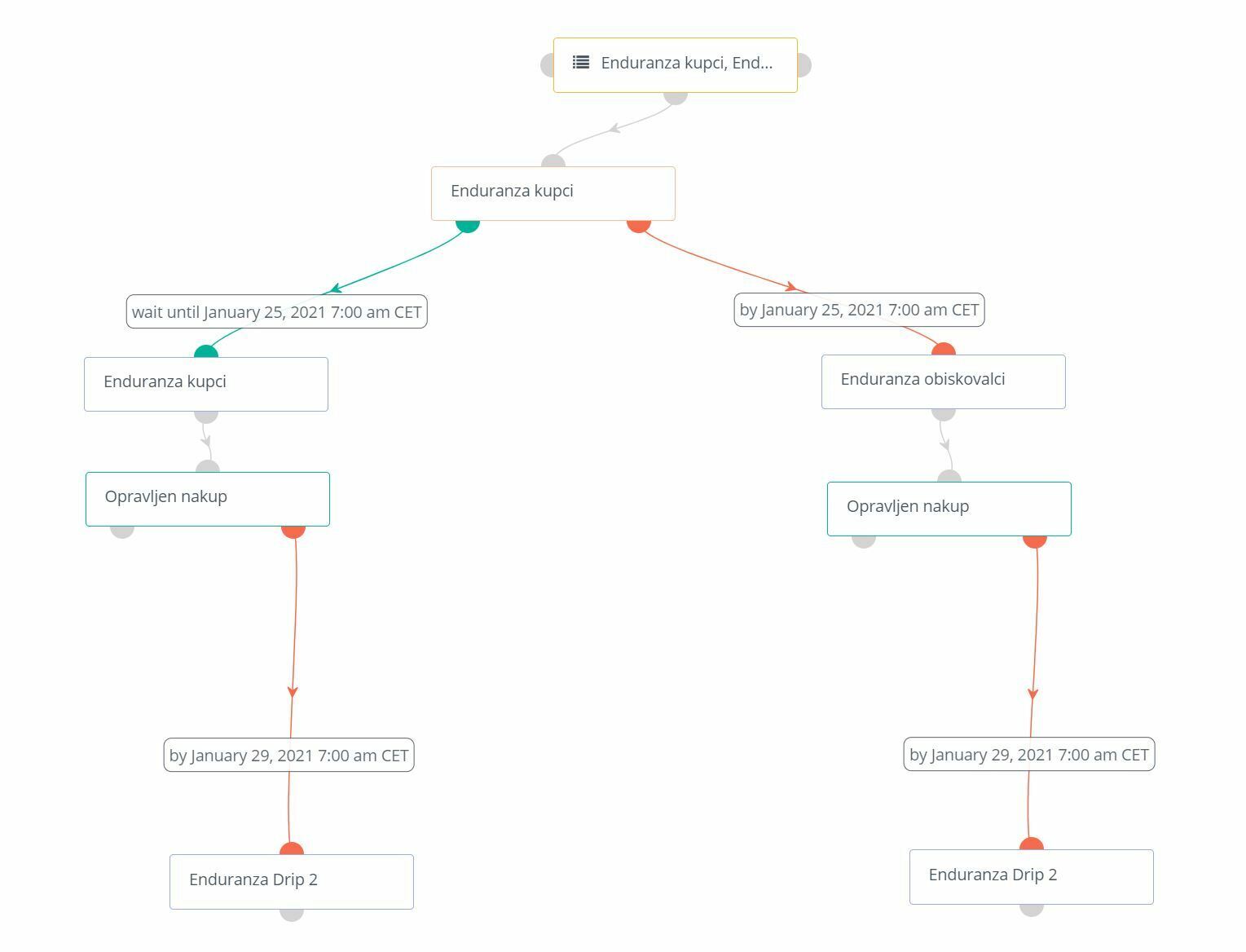 Best answer by Dov 11 June 2021, 20:15
Hello @Iztok,
Thank you for sharing your question with the Klaviyo Community.
In order to start a flow on a specific date, you will have to use a date-triggered flow. My first recommendation is to review that article as it details all of the information you need to get this going.
Additionally, when you click on the trigger of the flow, you'll have the option to set the flow to only send on certain day(s) of the week.
In terms of filtering people who have bought vs viewed a certain product, you can use the What somebody has done (or not done) condition in two conditional splits to your flow. For example, What somebody has done (or not done) Placed Order at least once where item = X. You would then add another conditional split down the "No" path -- What somebody has done (or not done) Viewed Product at least once where URL = "URL of product page".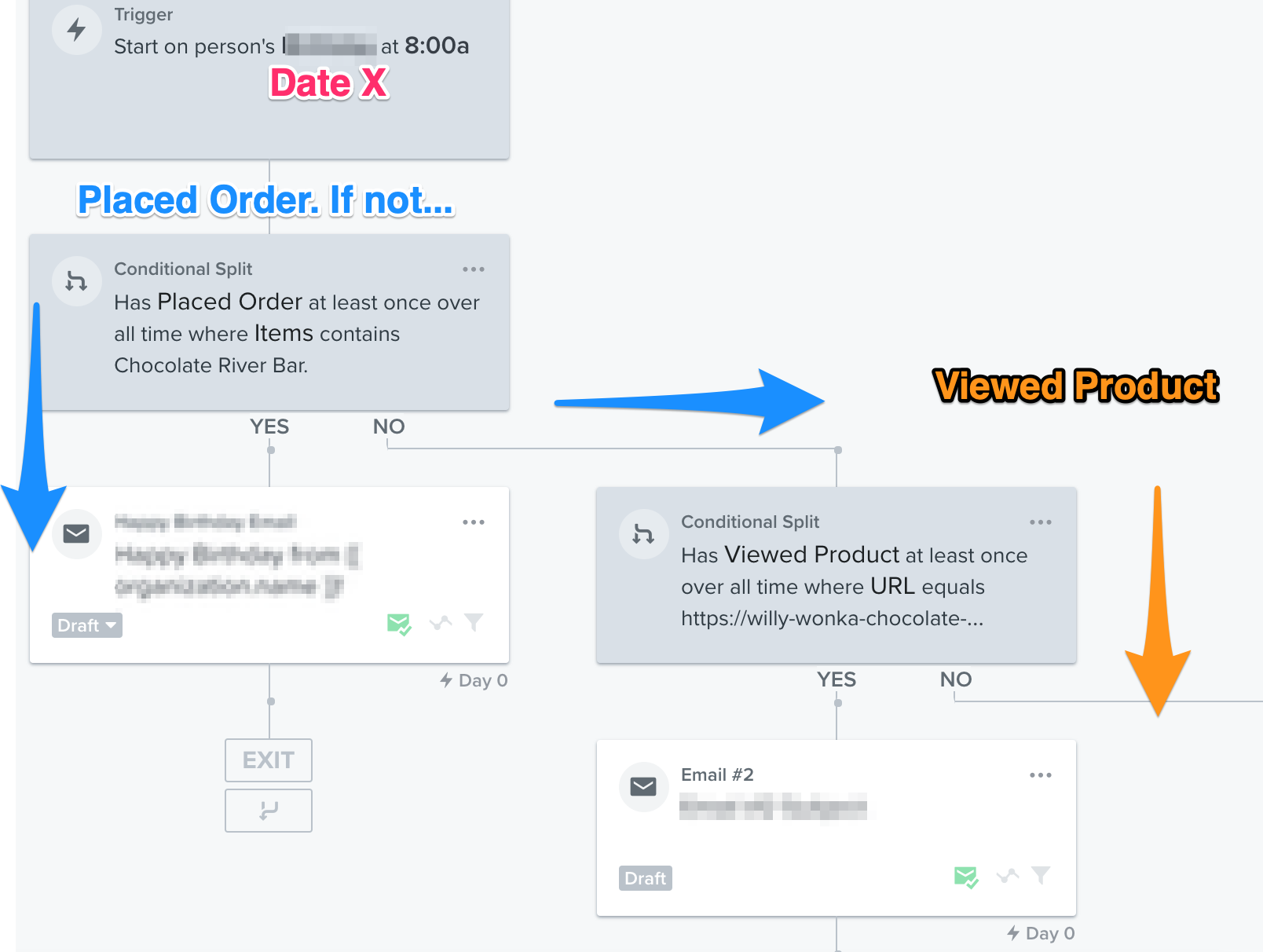 You can also use flow filters to exclude certain recipients from qualifying for the flow. As an example, to exclude someone who placed an order for a specific item, in the flow filter you would again use: "What somebody has done or not done" placed order zero times over all time where item = X. The same principle can be applied for custom properties about an individual. So say, you only wanted to include people with custom property of "scheduled appointment equals yes" in the flow, you can use the Properties About Someone condition > scheduled appointment equals yes and only those people would be included in the date-triggered flow. This latter portion would enable you to only include people from certain groups (segments) if you wish.
I hope that helps! Have a great weekend.
View original