You can get this information per campaign via the Advanced Reports tab like in the image below but I was wondering if Klaviyo can show us the same data as below but on the total, including ALL campaigns and ALL emails sent out via flow?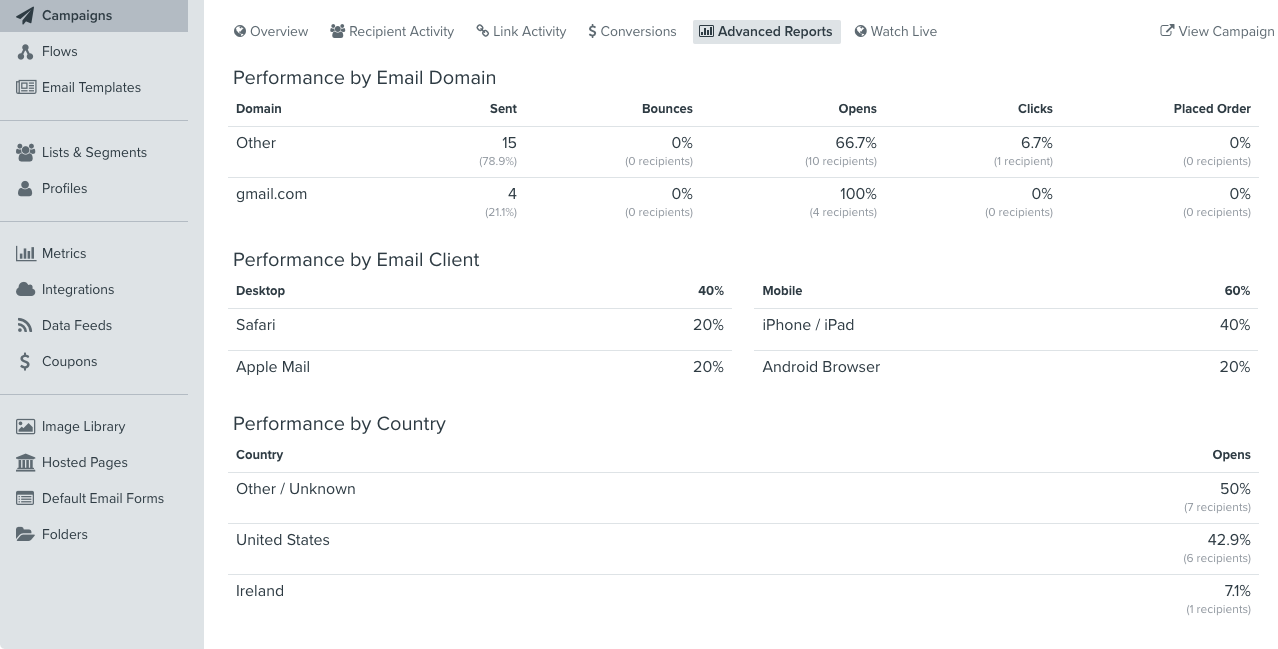 I'm looking for this data so my team can continuously track deliverability per email domain as well as optimize email content itself for either desktop/mobile.
Thanks in advance for your help!
Best answer by david.to 22 April 2021, 21:00
Hello @joannabko, 
At this time Klaviyo does not have the functionality to report on the total performance of each Domain, Device/Client, or Country for an account as a whole; unlike the email specific Advanced Report. However I would love to share this feedback to our Product team to consider implementing as a feature request!
Outside of using the Advanced Report function, to see domain specific performance, I would suggest creating  domain specific segments which captures users utilizing any of the major domains and sending your emails to each of these segments. This would assist in highlighting any deliverability issues that may be arising from each of these domains independently depending on the performance of each of your campaigns. Overtime, you can then create and generate a custom report based on these campaigns which targets each domain to gauge their deliverability and if there were any deliverability issues originating from them. 
To optimize email content between Desktop and Mobile, we often recommend utilizing third-party tools such as Litmus or Email on Acid as they would allow you to preview your emails on a wide variety of Devices, inbox providers, etc to more accurately optimize your emails. You can also find more resources and suggestions we offer for optimizing between Desktop and Mobile from the Optimize Your Emails for Mobile article and the Getting Started with Email Design course Klaviyo offers. 
Best,
-David
View original