We have a client who has a subscirbe form on their website but they want to run ads and have requested a second identical subscribe page just to track the leads that come from those ads.  Is there a easier way to track where subsribers come from using just one subscribe form/page?  
Best answer by david.to 6 May 2021, 17:29
Hello @MikeH,
Thanks for helping our mutual clients! 
You can track where subscribers come from using a singular subscribe form/page by utilizing the Initial Source property filters available through segmentation. Klaviyo broadly tracks the acquisition source of contact who join your Klaviyo account. This information can be found under the How They Found You section of their profile.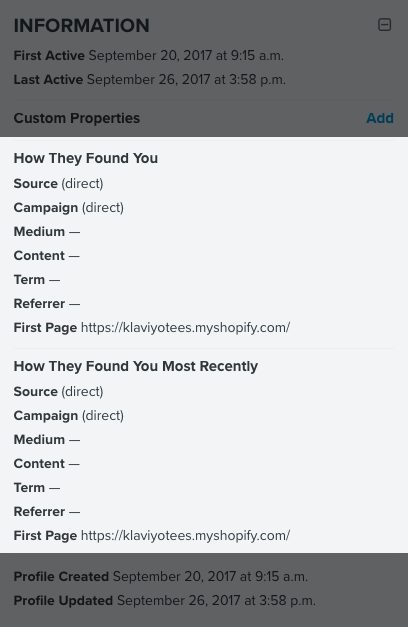 Possible values for these referred source properties are:
(direct): The person either entered your site URL directly in their browser or, more likely, we don't know where the person came from.
(referral): The person came from another website by clicking a link on that site. (I.E Google)
(organic): The person either came to your site from a search engine or via a campaign send. You'll see a custom value here if there was a "utm_campaign" set in the URL the person landed on.
To identify where users are originating to fill out this form, you can use a segmentation rule similar to the below example which would help in identifying customers who have filled out a specific form and whose originating Initial Domain is "google.com":
I would recommend reviewing the About Initial Source Tracking with JavaScript and About The Information Section of a Profile articles to learn more about how Klaviyo tracks these acquisition sources and what filter rules would work best for your client. 
Hope this helps!
-David
View original