Hi there,
I've just moved over to Klaviyo from Mailchimp. When I created my newsletter list, I just uploaded a CSV file of my existing subscribers, which just included their first name, surname and email address. I didn't realise at the time that there was a Mailchimp integration option.
I have since created my 30, 60 and 90 day engaged segments but all my contacts are in each segment - I assume because they've just been added in the last 15 days? 
So, to try and solve the problem, I then realised that there was a Mailchimp integration option and I've added that using the API from Mailchimp. But how do the contacts in my newsletter list get updated as nothing seems to have changed?
I thought they might be automatically updated to show klaviyo when they last opened emails etc or is this not possible? I thought the 30, 60, 90 day engaged lists would now be updated and show different numbers? Can anyone help?
I just want to make sure I've done everything correctly - or should I just delete the Mailchimp integration now. 
Thanks for your help.
Ruth. 
Best answer by elisegaines 6 April 2021, 21:04
Hi @rutholdfield! I'm so sorry you've been running into trouble. It sounds like you've diagnosed the root cause correctly: manually uploading a list of your contacts makes it look like they were all added on the day of the upload. 
If you're using Klaviyo's Mailchimp integration, then open and click data from your Mailchimp campaigns should be synced over soon. The sync takes time though! You can check progress by navigating to Analytics > Metrics and looking for the Opened Email and Clicked Email events (with the Mailchimp icon next to them). 
That said, the Mailchimp integration alone won't remove anyone from your segments -- it will just make sure you have all the data you need! Once your data has synced from Mailchimp, I'd recommend using a segment that looks like this: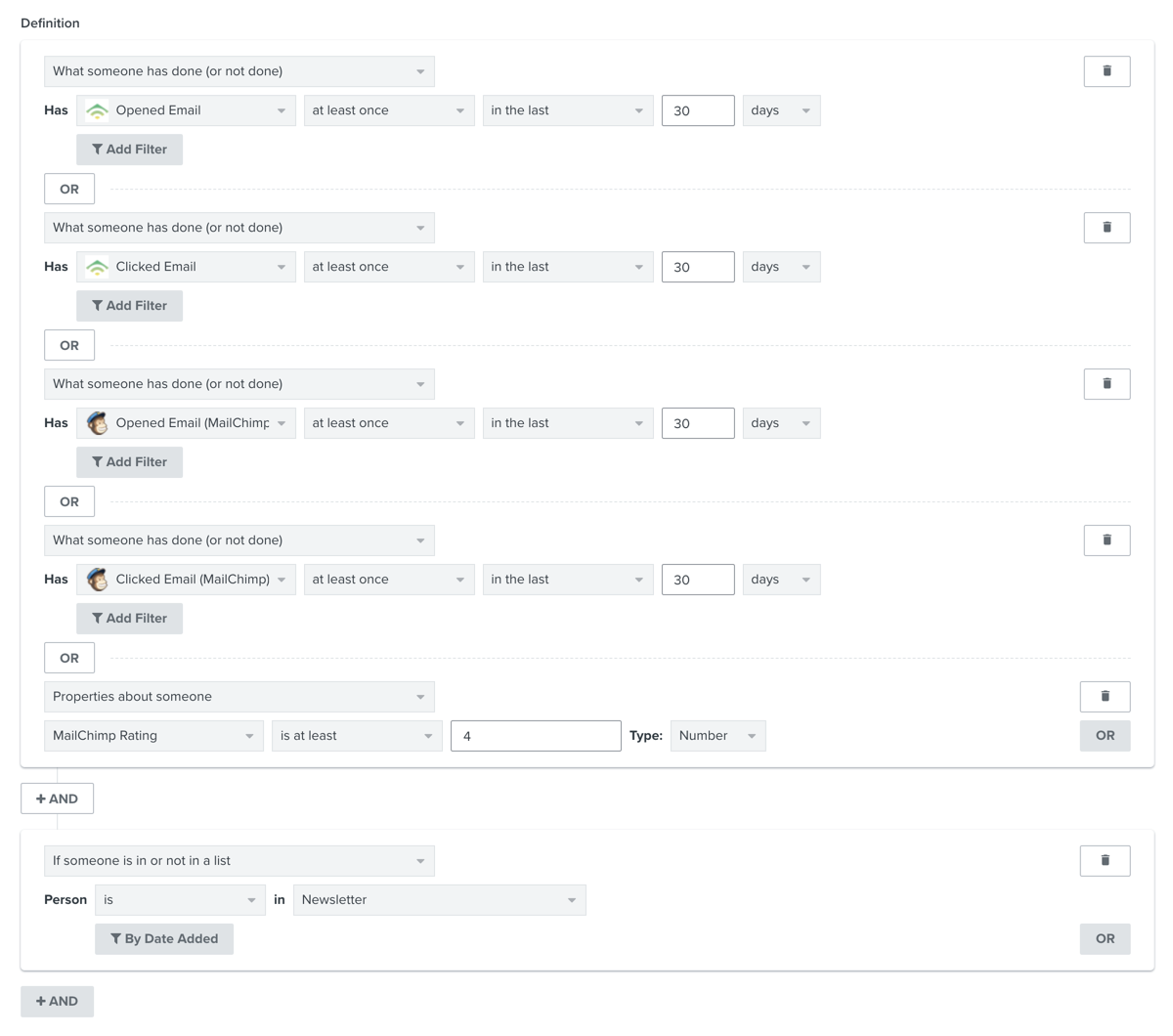 That way, the segment will take into consideration your Mailchimp data (and will ignore the upload date). You can go back to using the 30, 60, and 90 day engaged segments in a few weeks, once you've seen some emails through Klaviyo. 
I hope this helps! Feel free to follow up here if you have other questions. 
Best,
Elise
View original