Hello Klaviyo community!
Hope everyone's having a good day!

I am creating a segment for unengaged profiles, which condition setting contains they receive at least X number of emails and didn't click and open for Y number of days. I am not sure how to figure out the optimized number for this X and Y.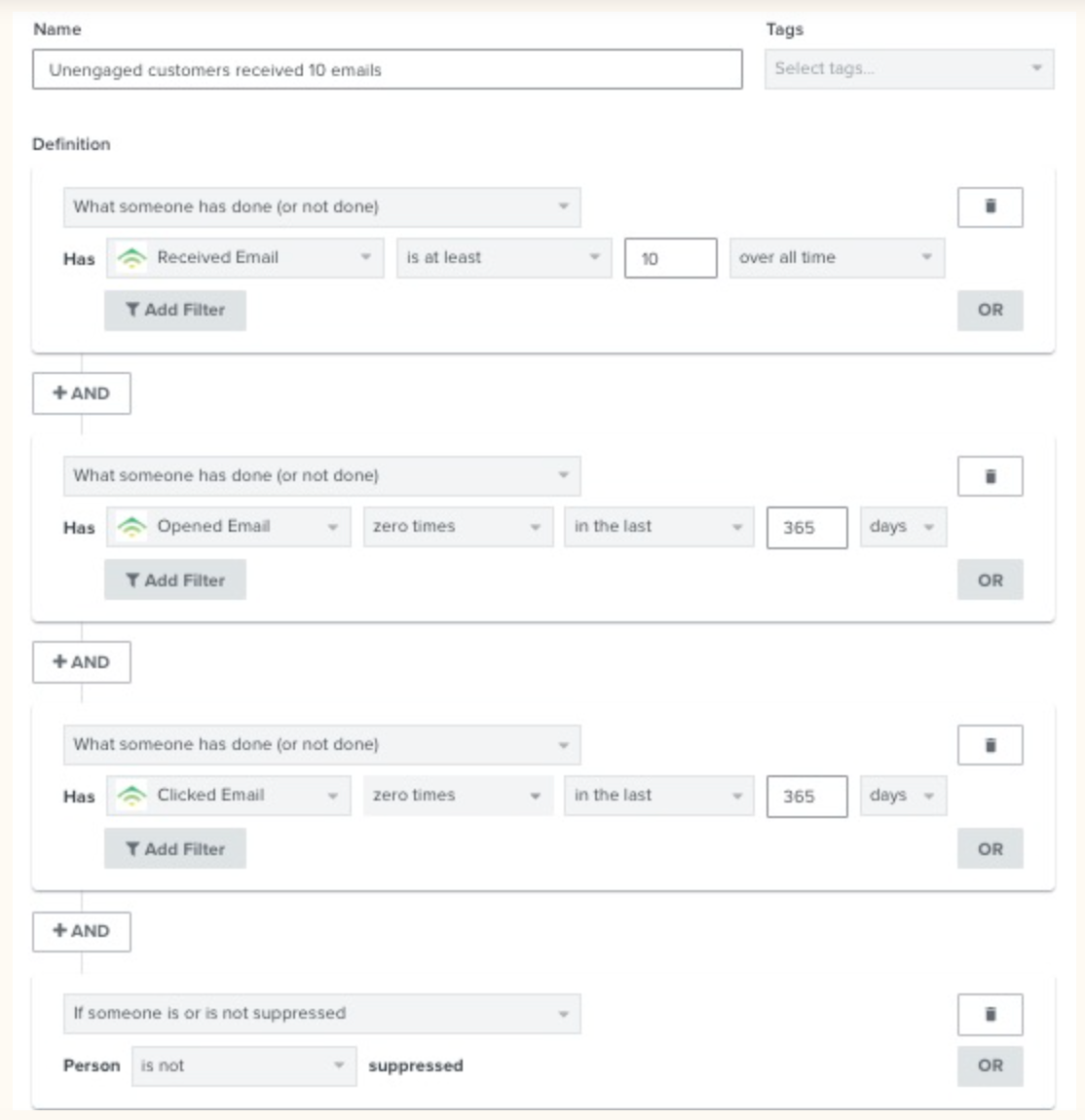 I contacted Klaviyo support, and they recommended that "You can modify this number depending on how often you send to your customers and the type of products you sell. If you send daily, make this number higher."
Related document: https://help.klaviyo.com/hc/en-us/articles/115005078347

The problem is our sending habit (how often we send to our customers) tends to be instable and fluctuate for now. We're having punch of stores, segments to work on. At some point, we'll be sending a decent amount of email for one of our store/segment, but sometime we'll be most likely sending nothing but the email flows we set up (no campaign). 
So for example, if I set the segment to "receive at least 10 emails and didn't click and open for 90 of days." It might be ok for now, but once we increase the email frequency with campaigns, it could be up to 35-40 emails over the last 90 days (and I understand sending emails to people didn't engage over the last 35-40 emails will definitely hurts our KPIs and domain reputation). This mean we have to structure our workflow so that the email frequencies for a specific store/segment is always steady down the road (or we have to update this segment everytime our sending habit change - keep in mind that we have many different stores/segments).

Long story short, how can I create an unengaged segment with condition "didn't engage over the last 15 of emails" (for example), disregarding the timeframe of those email (whether it be 30 days or 90 days)?

Ideally, I just need some thing similiar to: Definition [What someone has done (or not done)] has [Opened Email/Clicked Email] [zero times] [in the last] [X number] [emails]

I would be really appreciate any help or guidance.

Thanks for reading.