Total newbie here so bear with me …
I set up a signup form for my website to collect email addresses and birthdays. I am now trying to create a flow to send an email (with discount) on the customer's birthday. In "Flows" I chose the standard Happy Birthday Email and it shows the flow on the right with "Start on person's Birthday at 8am". There is a Trigger dropdown menu on the left but there's no option to select "date" just "Created", "First Active" or "Last Active". What am I doing wrong?
Also, my Klaviyo account is integrated with Shopify -- can I only use the Flows with the Shopify icon?
Best answer by julie.accardo 28 March 2021, 14:43
Hi @michellebiggs,
When you create the flow from our flows library, you should have the option set the trigger as the date profile property you're using to collect birthday (DOB, Birthday, etc.). If this profile property does not already exist on a user's profile within your Klaviyo account (this could be the case if you're starting new with collecting this data and no one has provided you with their birthday upon signup), you will not see it as a trigger option in the dropdown menu when creating the flow. 
Once the first subscriber provides their birthday at signup, you will see it as a trigger option for this flow. From there you can adjust the trigger settings to control the behavior of this flow.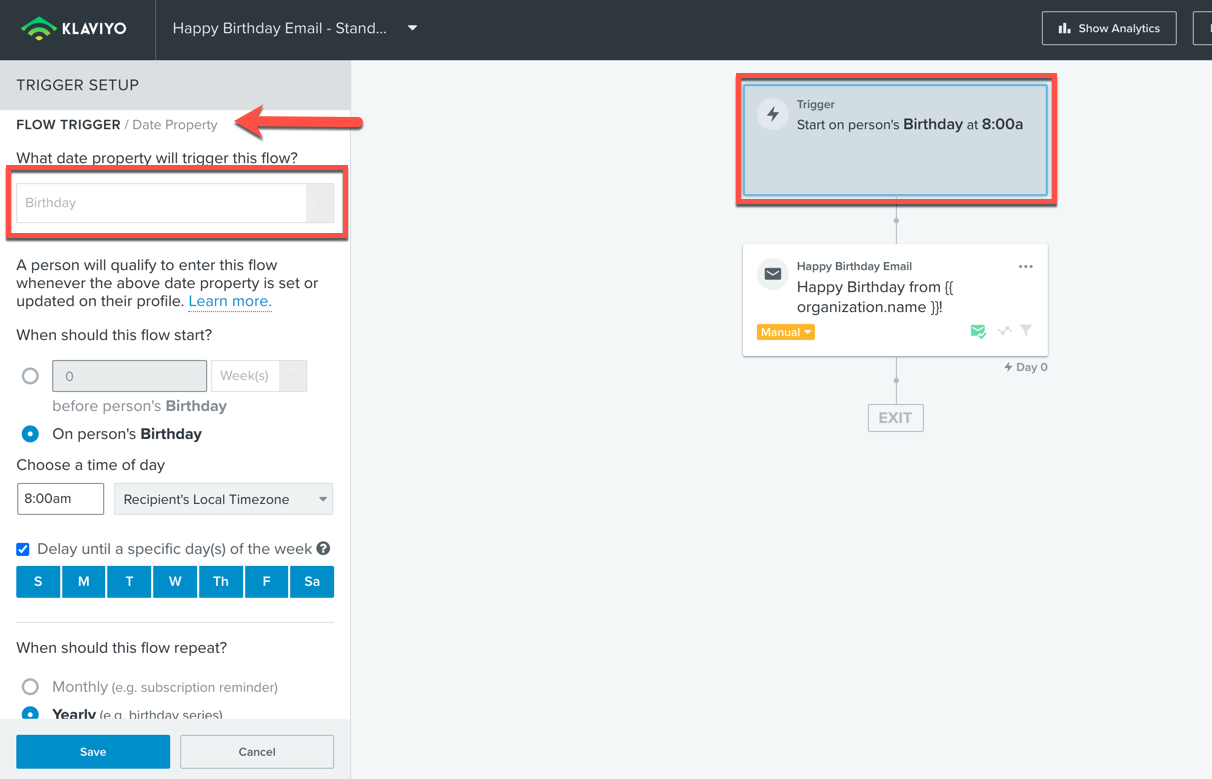 The flows in your flow library with the Shopify icon indicate that events syncing from your Shopify store are the triggers for those prebuilt flows. Some of the other prebuilt flows without the Shopify icon such as the browse abandonment flow can also be used. The browse abandonment flow is triggered off of web tracking and not a Shopify event coming through the Shopify integration which is why you see a gear icon for the prebuilt browse abandonment flow. You can also create your own flows from scratch.
I hope this helps!
Julie
View original