Hi there,
New to the community and have a question about trigger filters. We would like to set up a hierarchy so people do not get swamped with emails from us -- giving priority to our Welcome flow and 2x/week newsletter over product abandonment emails.
Excluding people from the abandonment flow if they have received another flow (Welcome) in the past X hours seems easy enough, but I'm stumped at how to exclude them if they have received a regular email campaign from us.
Thanks!
Don
Best answer by david.to 17 June 2021, 23:09
Hello @Don,
Welcome to the Klaviyo Community!
To exclude customers from your flows if they have received a regular campaign email, I would recommend using either Smart Sending or a broad flow filter of "What someone has done, Received email zero times in the last X timeframe". Using either the Smart Sending function or the suggested flow filter would exclude customers from the flow if they have received an email in a given time frame prior to receiving this abandoned cart email.
Another potential solution would be using the flow filter of "What someone has done, received email zero times where Campaign Name equals X at least once in the last X time frame". Keep in mind though that the specific campaign name dimension would not appear until the campaign has already been sent. For this reason, you can either apply the filter immediately after the campaign has been sent or if you wish to preemptively create this flow filter prior to sending the campaign, you would need to manually enter the campaign name in the definition. When manually plugging the campaign name into the definition, you'll want to ensure you are copying the campaign name you are sending exactly as it is spelled. Klaviyo definitions are spelling and case sensitive and therefore any misspellings, incorrect cases or the addition of an extra space at the beginning or end of the definition will cause the filter not to function correctly.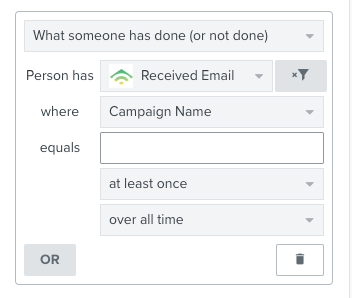 I hope this helps! Thanks for being a member of the Klaviyo Community!
David
View original