As you may already know, Shopify introduced combinable discount codes in June of last year, which has been a game-changer for many of us.
However, I'm writing today to discuss a challenge that I and many others have faced when using Klaviyo for flows and customer rewards. As you may know, dealing with dynamic discount codes in Klaviyo can be a bit cumbersome, especially for those of us who offer automatic codes through Shopify.
For example, my shop offers automatic codes for bundling promotions - Buy 2, Save 5%, Buy 4, Save 15%. Unfortunately, this causes issues with our dynamic discount codes through Klaviyo, as we have to manually enable combinations each time Klaviyo generates a new set of discount codes. (This is just not possible to keep up with)
That's why I'm here today to request a new feature that would make our lives much easier - the ability to enable combinations en masse per discount through the Klaviyo dashboard. Even just the ability to automatically combine codes would be a huge help.
I believe that this feature would not only benefit me but also many others who are struggling with the same issue. It would save us time and streamline our workflow, allowing us to focus on providing the best possible service to our customers.
I have taken the liberty of creating a mockup image that illustrates how this feature could look on the Klaviyo dashboard. I believe this will help give you a better idea of what we are looking for and how it could work in practice.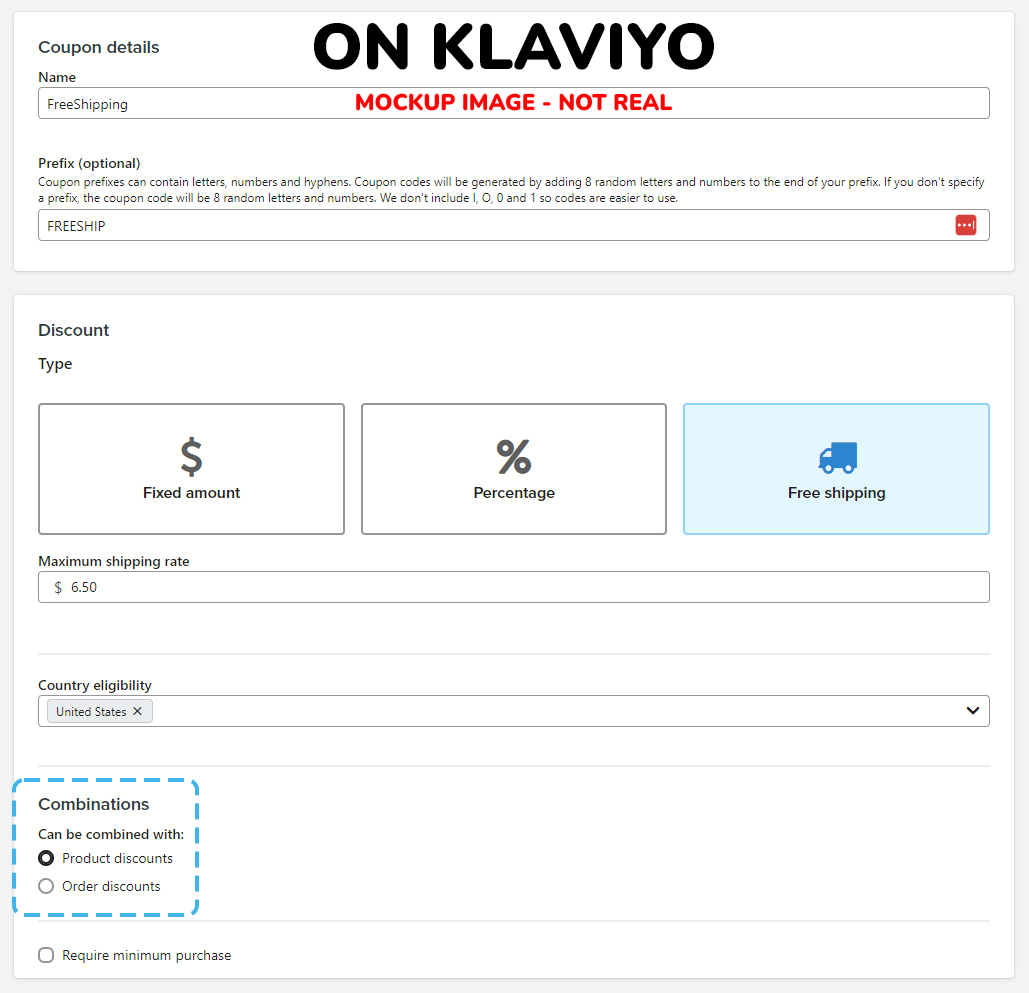 In addition to the issue I mentioned earlier, another problem we have encountered is that customers are unable to add the Free Shipping code on top of the automatic 5% discount code. This is because Shopify's automatic discount codes do not allow stacking with Klaviyo's current dyamic Free Shipping discount codes that are being generated.
This limitation can be frustrating for customers who may have received a dynamic discount code from us, only to find out that they cannot use it in conjunction with the automatic discount code. This can lead to confusion and dissatisfaction, potentially resulting in lost sales and reduced customer loyalty.
By enabling combinations en masse per discount through the Klaviyo dashboard, we would be able to overcome this limitation and allow customers to stack discount codes as they see fit. This would not only improve the customer experience but also give us greater flexibility in our promotional strategies.
Thank you again for your time and consideration, and I look forward to hearing your thoughts on this feature request.
:)