Hello,
I have a large existing list and would like to add a manage preference option to my campaign email footer that allows customers to decide what email content they want to receive from us. There are three categories of emails we are sending, which are sales & promotions, new product releases and blog posts.
I have not put a manage preferences link in the emails yet, or segmented anything yet. I do have a custom page set up with radio buttons that they can check off for each segment of emails they are interested in,  but I find this strategy backwards as my current list is technically already subscribed to all 3 (as we only segment based on engagement so far).
I need some guidance on the best strategy for executing this project and best set up for the custom manage preferences page.
Thanks,
Alicia
Best answer by emailteamvwe 23 April 2021, 06:35
Hi Alicia!
I am a new Klaviyo user who had this exact problem and just figured out how to fix it.
First, you should set up the choices on your preference pages as checkboxes, not radio buttons. Checkboxes are meant for selecting multiple interests, whereas radio buttons are meant to limit you to one choice out of many.
After you set up the checkboxes on your preference pages, the first thing you should do is update your welcome flow, so every new subscriber is automatically opted in to all emails. We'll fix the current subscribers in just a minute.
 
Open your welcome flow and drag Update Profile Property from the left column into your flow on the right, directly after the trigger.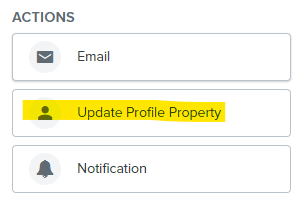 In the left column, under Configuration, choose Create New Property, then name this property something relevant like Interests or Preferences. Make sure you choose List as the property type. Then add each of your options in the box below and Save.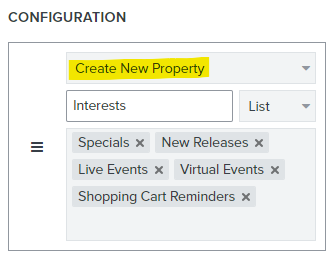 In the right column, switch your new property box to Live. Then you can Save & Exit.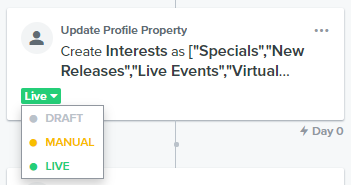 Go to your website and subscribe any email address you own to trigger your welcome flow. If you have double opt-in enabled, be sure to confirm.
 
Note: I love using free Gmail addresses for testing, because you can add extra dots anywhere and Klaviyo will treat it as a new email, like aliciatesting@gmail.com and alicia.testing@gmail.com and a.l.i.cia.testi.ng@gmail.com.
Now go to Profiles and click on the new profile you just created. If you did everything right, you should see all the preferences listed in the Information section of the right column.
 

Now it's finally time to add all of these preferences to your existing subscribers. Go to Lists & Segments and click on your list. In the top right, click the Manage List button and choose Export List to CSV.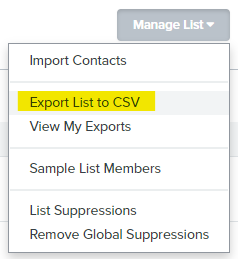 On the next screen, use the search box the find the new property you set up in the welcome flow and select it, then click the Start Export button on the right. Save the CSV file to your computer.
 
Open the CSV file and sort by your Interests column so your new profile is at the top. Now double click the tiny square in the bottom right corner of the Interests cell to copy it to all the cells below, and save.
 
Go back to your list in Klaviyo, click the Manage List button again, and choose Import Contacts.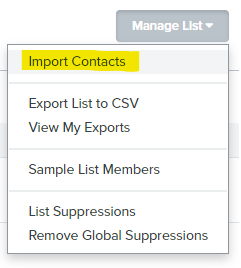 Drag and drop or browse to your CSV to start the import process. On the right side, be sure to set the type as List. Then click the Import Review button above, and then Start Import on the next screen.
 

Once the import is complete, all of your current subscribers will be opted into all preferences, as well as every new subscriber going forward. Now, if they click the Manage Your Preferences link and select their interests, they will be effectively opting out of emails they don't want to receive.
Now you'll want to set up new segments targeting those interests, so you can choose the appropriate segments depending on the type of email you're sending.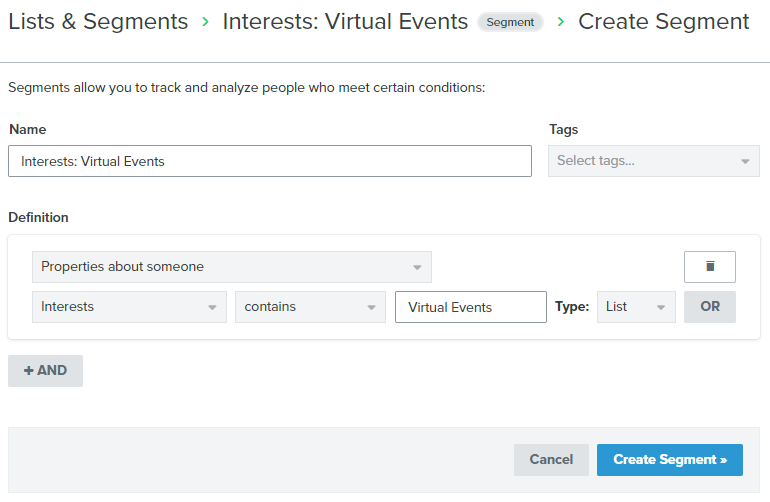 Good luck and happy emailing!
Adrienne
View original