I'm brand new to Klaviyo, so please bear with me.
On my website, I want to have a sign-up form offering a 10% discount to anyone who signs up, and hopefully uses that discount to become a paying customer. Is it best to have those people on a list or segment?
Also, how do I create a list/segment just for people who made purchases?
Thanks in advance to anyone who can help me.
Best answer by david.to 20 May 2021, 19:10
Hello @MarkC,
Welcome to Klaviyo! 
I think the first thing to address would be understanding the difference between a List and a Segment. @ashley_mcdermott has a great rundown of the differences in the following Community post:
For this particiular use case, I would recommend using a list to target these customers and serve your 10% off discount to. If you havn't already, I would recommend creating a welcome series flow triggered off of the list that your signup form is adding your subscribers to. This way you can use this welcome series flow to serve your 10% discount code to customers automatically. You can learn more about the specific function so of a welcome series flow and this specific use case mentioned within the Creating an Email Welcome Series guide Klaviyo offers.
Furthermore, you can create a segment capturing customers who have made a purchase in the past by using the segment rule of "What someone has done, Placed Order at least once over all time". This segment would capture all customers who have ever made a purchase/triggered the Placed Order event.Example below:
You can further build on this segment as well if you wish by adding addition rules to serve your goal. For example, if you wanted to see customers who have previously have made a purchase and were in a specific list, you can include the rule "If someone is or is not in a list, person is in X list like the example below: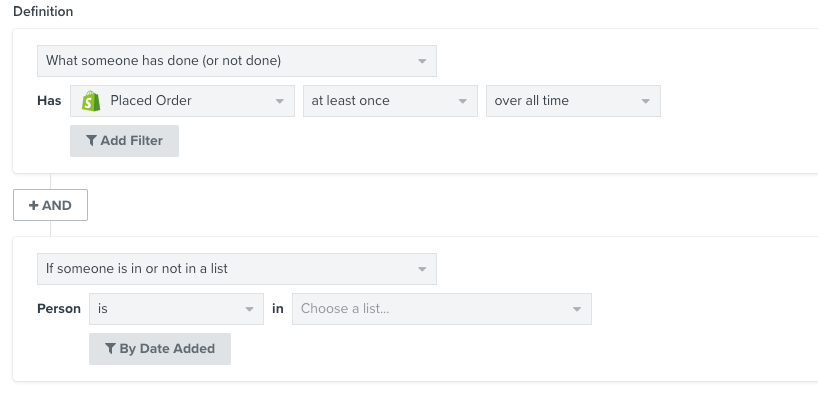 I would also recommend taking a look at both the Guide to Creating Segments and Guide to Advanced Segmentation to learn more about the many options there are to creating and using segments. 
Hope this helps and thanks for being a part of the Klaviyo Community!
David
View original