We have both subscription and non-subscription products, but I want to report how much revenue from first-time purchasers is coming from Klaviyo flows. 
We've integrated both Shopify and Recharge to Klaviyo, but any help articles I've read about this are above my head technically speaking, with lots of code so I am not sure if they're in the right direction or if there's a simpler solution.

Does anyone know how this is possible? Thank you in advance!
Courtney
Best answer by Dov 7 June 2021, 16:21
Hello @courtney_corner,
Thank you for sharing your question with the Klaviyo Community.
Currently, whether the order is for a subscription product (via Recharge) or a non-subscription product (via Shopify), Klaviyo receives the same Shopify Placed Order metric. Since Recharge does not have it's own discrete metric for an order placed, this means there is no way to distinguish a subscription purchase from a non-subscription purchase using Klaviyo tools pertaining to revenue.
With that said, users who have an active subscription to at least one item will have a custom property called Shopify Tags with the value Active Subscriber. If the user does not have any active subscriptions, under Shopify Tags the value will be Inactive Subscriber. This information is located under the Information section of the profile.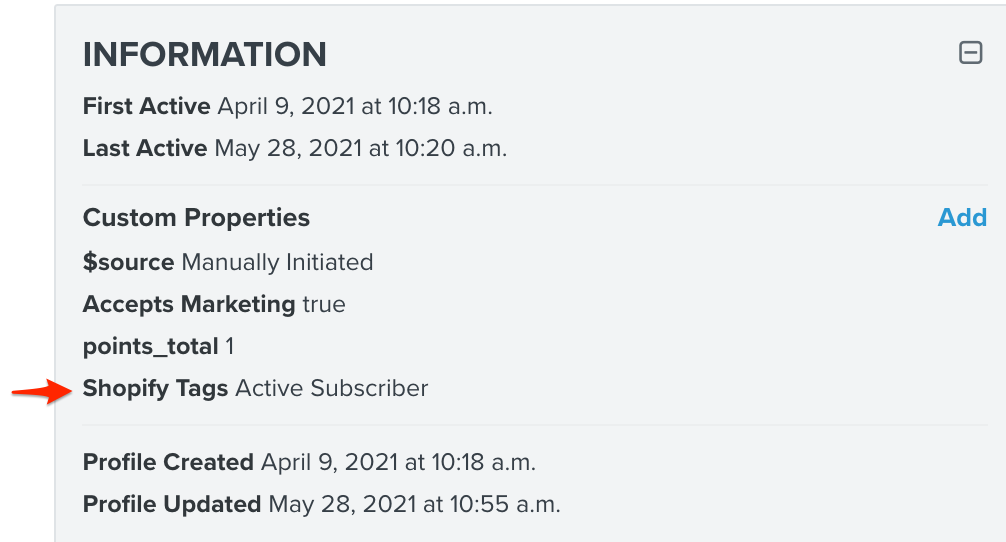 With this in mind, you can use a Klaviyo segment to distinguish subscription purchases from non-subscription purchasers using the properties about someone condition. For example, Properties About Someone > Shopify Tags contains > Active Subscriber. You can learn more about this in our Recharge documentation, Related Shopify Subscription Data.

There is currently an open proposal for our product team to consider implementing a solution to distinguish Recharge-driven revenue for more accurate reporting in Klaviyo for subscription products.
Thanks and have a wonderful day.
View original