Hi all!
I appreciate any responses to a question I have in relation to how segment tags and lists can be linked.  
My goals is to send emails based upon a set of preferences specified and collected in one subscription form.  (equipmentsurpluslist.com/alert)
I would like to automatically send listings of products within specified area of search once they are listed to the site. 
Can this be done using Klaviyo?  
Thanks in advance!
Eric
Best answer by ashley_mcdermott 2 March 2021, 22:01
Hi Eric,
Thanks for writing into the Community! Essentially, once someone fills out your form, their answers will be saved as properties on their individual profile. For example, if I fill out your form saying that I am interested in Ice Machines within a 50 mile radius of my location, then this information will be saved under Custom Properties in the Information section of my profile. For more information on properties, head to this guide.

You can then create segments based on those characteristics as well as the location of the available product(s) using the properties about someone condition and Someone's proximity to a location connected by AND. Here's an example of what one of your segments may look like in your account: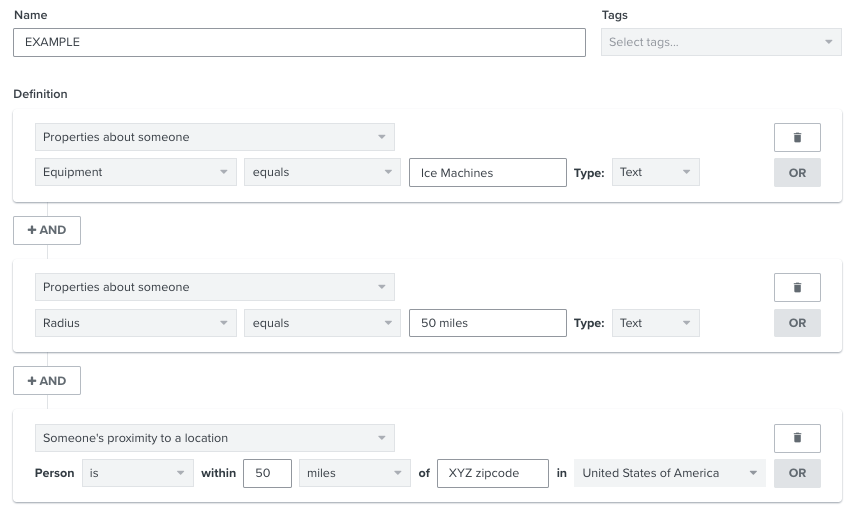 Then, when a new product is available, create a campaign promoting this item and send it to the applicable segment(s).
Campaigns are manual email or text message sends; whereas, flows are automated. However, based on your use-case, I do not think that there is a flow in Klaviyo that does exactly what you are looking for, unless you use BigCommerce or Shopify as your ecommerce platform (in which case you can create a back-in-stock flow). If you do not use either of those platforms, then sending a campaign and only including the applicable segments would be your best bet.
I hope that helps!
All the best,
Ashley
View original