Hi guys.
I'm trying to create a scratch flow when an account enter in my custom segmentation.
The definition of segmentation is this:
Now, when I send a personalized email and this accounts open the email for some happens the segmentation, for more accounts no.
Also, for accounts featured in my segmentation, they will not be present in the flow and therefore no type of flow will start.
Why does this happen?
Klaviyo indicates that the segmentation fills up based on the actions performed by the accounts.
In this case the accounts appear to perform that action.
Best answer by Dov 17 May 2021, 21:52
Hi @Vincenzo Cassese,
Thank you for sharing your question with the Klaviyo Community.
We make the best effort to process all segmentation requests in real time, but in some cases, a high volume of segmentation requests across our customer-base can cause delays.
If you're manually updating a segment, it can take up to 15 minutes to process.
If you're monitoring a segment, updates can take up to 1 hour.
There are two notable exceptions to the above:
Segments that rely on relative time conditions, which are only true after a certain period of time -- these types of segments update every 24 hours instead of real-time
Segments that rely on all "negative" conditions (for example, everyone that is not in several specified lists) -- these types of segments may update with a slight delay
These conditions are outlined in our how segments update documentation.

Also, users who are a part of the segment before you set up the flow will not automatically enter the flow. Only users who meet the segment definition after you have set up the flow (and after you set the flow emails live) will enter the flow. In addition, if you manually update the segment definition using the "Update Segment" button, the segment will pull in new members who qualify for the segment, but these users will not receive flow emails from the segment-triggered flow. The rationale for this is we do not want to send flow emails to people if you made a mistake with your definition when clicking "Update Segment".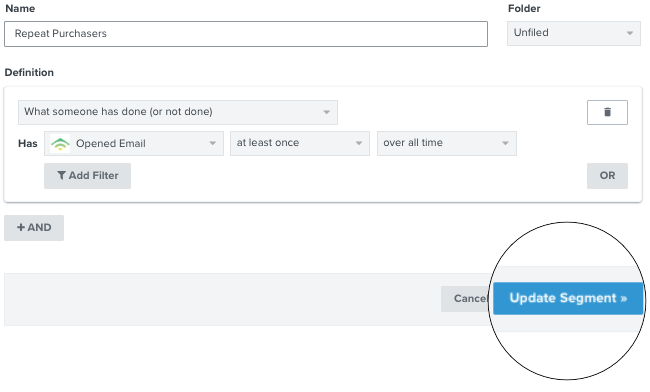 If you do want to push all members of a segment into a flow after clicking "Update Segment" or push existing members of the segment into the flow who existed prior to creating the flow, you will need to back-populate the flow using the second option: "Schedule recipients relative to when you click back-populate".  We have more details on this topic specifically here. Backpopulating using this option will push everyone in the segment through the flow, starting from the first email. It is also worth noting that once a user has entered a list or segment-based flow, the user cannot subsequently be re-queued for any flow message previously received.
Thanks and have a great day.
View original