Hi, sorry, dumb question but should my master customer list be a list or a segment? I inherited this corporate account from others who created a master list but as a segment - see below. Thanks

Best answer by david.to 29 May 2021, 15:37
Hello @LaryW,
Thanks for sharing your question with the Klaviyo Community!
The use of a "Master List" within your Klaviyo account and if it's in a static list or dynamic segment format is dependent on your preference and marketing strategies. I would recommend reviewing the Understanding The Difference Between Segments and Lists article and weighing if a "Master List" using a list or segment format would best suit the needs of your account and it's marketing strategy.
In the Why Having a Single Main List is Beneficial article, Klaviyo explains the benefits of having a singular static list and how it assists in analyzing your owned marketing strategy and optimization for deliverability. 
Using a "Master List" with a dynamic segments format would be beneficial if you have several signup sources all leading to separate lists. Using segmentation would allow you to capture these various list sources into one grouping. One drawback of using segmentation for this would be the lack of a list growth report functionality as a list growth report is only available for lists and not segments.
If you decide to go this route, instead of the segmentation definition highlighted in your screenshot of "Subscribed to list at least once overall time", I would recommend using the segment definition of "If someone is or is not in a list, Person is in List A OR If someone is or is not in a list, Person is in List C, If someone is or is not in a list, Person is in List C..." while incorporating all of your lists. This is because the Subscribe to List metric is not triggered for every instance a customer is added to a list. For example, contacts who are added to your Klaviyo list via a .CSV import, through accepts marketing at checkout, or through some API source would not trigger this Subscribe to List as explained in the Understanding the Subscribed to List Metric article.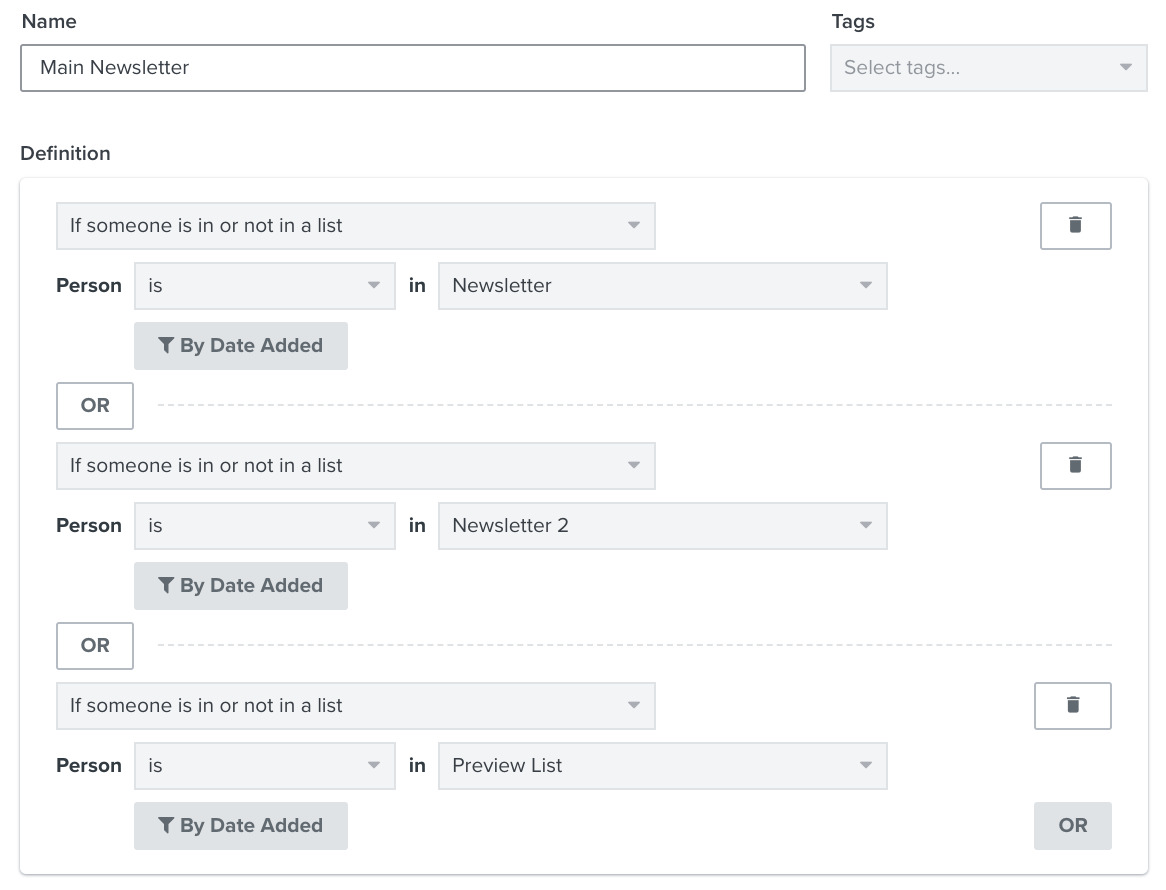 You can find a guide on how to combine and capture all of your lists into a singular "Master List" in a segment format from the How to Combine Two or More Lists in Klaviyo article. This sort of definition would leverage the rule of "If someone is or is not in a list" which would capture if a contact is currently present in the list or not as opposed to if they had triggered the Subscribe to List metric. 
Hope this helps!
David
View original