Dear Helpful Community Members! Why I am unable to upload the contacts from my PC??
Kindly help me out
Thanks <3
Best answer by alex.hong 30 June 2021, 19:44
Hi there,
Thanks for posting your question to the Community! Hope to add some clarity and get your issue fixed.
I would like to start off by asking if you have properly filled in the csv file with the appropriate columns, headers, and formatting listed in our article on "How to Create and Add Contacts to a New List". If you are trying to add users to an existing list, this article goes over how csv files should be formatted so that they can be easily uploaded following one of the methods in our article "How to Add Subscribers to an Existing List". We also have a help article on troubleshooting list imports, featuring issues that users commonly run into and how to fix them. 
One common error that customers face when uploading csvs is duplicate headers. Ensure that there are no blank column headers in the csv file that you are trying to upload. Please refer to the examples below for further clarification on what they should look like.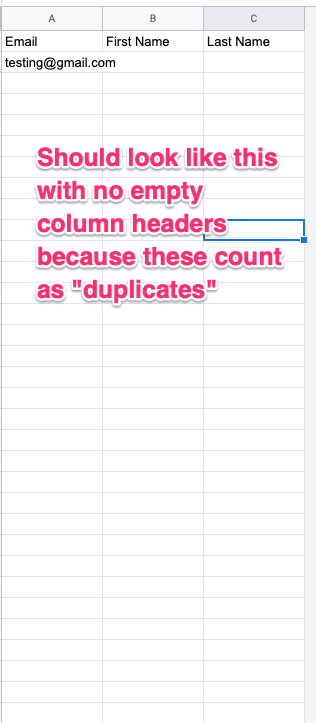 Unless you are using list data, make sure to set data types to string.
However, if you were unable to resolve the issue after following the above steps and reading through our documentation, please provide more details around the error and post a screenshot of your csv file (redacting any email and customer information) so that the Community can better understand the problem!
Hope this helped and I look forward to hearing your response,
Alex
View original