Hi! 
I have created a Segment where about 7,000 subscribers got in. I used this Segment to trigger my Newsletter flow. However, when emails were sent and I get to check the analytics, only 1,000+ emails were delivered.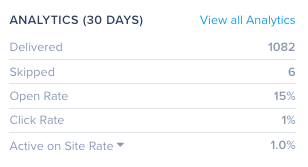 Can someone please tell me why it wasn't delivered to all 7,000+ segment subscribers? This goes the same as the next emails on the flow. The Delivered number just keeps getting smaller and smaller. Here's for the last email that is in that flow:
Only 137 were delivered, 482 waiting to be delivered. I'm not sure what I am doing wrong. I already back-populated the flow. Will that help? All I want is for the 7,000 subscribers to receive all the emails I have prepared in the Newsletter flow.
Someone help please! Thank you so much!
Best answer by Taylor Tarpley 28 January 2022, 17:54
View original