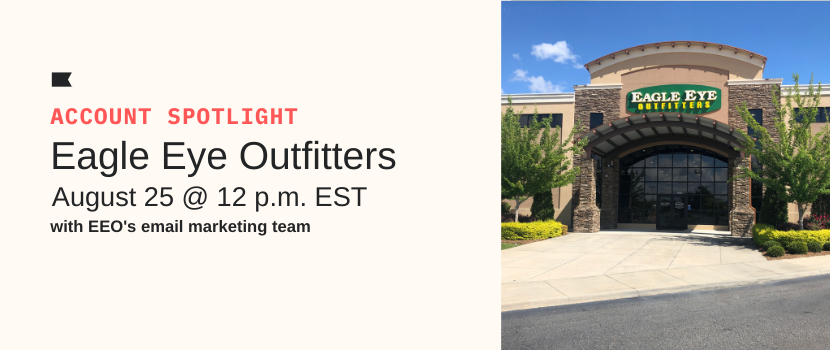 Let's keep the conversation going with Kelley, Emma, and Julie from our August 25, 2022, account spotlight featuring Eagle Eye Outfitters (EEO)! This is a collaborative space to post any of your additional questions or share any of your own marketing wins, strategies, or lessons learned with other like-minded business owners and creators. 
During this session, we discussed how the EEO marketing team:
Plans and promotes product restock announcements

Uses discounting to bridge the gap between in store and online shoppers

Incorporates SMS into their in-person Black Friday event
Note: account spotlights are not recorded, so we recommend attending these sessions live.
If you want to learn more, check out our live training schedule to see when the next account spotlight session is scheduled. 
Key takeaways from the training: 
Segmentation is key. The EEO team saw 18.5x higher revenue from a campaign sent to a list size 2.7x smaller than a similar campaign. Identifying the most impactful audience for any given campaign will generate the highest returns and help to maintain favorable deliverability long term.

Including in-store scannable barcodes as well as online coupon codes within email and SMS messages is a great way to facilitate and promote sales online and in-store.

Using subscribe keywords to trigger a flow helped the EEO marketing team to stay in touch and share important updates with people during their in-person event leading up to doors opening on Black Friday. This generated over 500 new SMS subscribers that can be nurtured year round.
How do you plan to implement some of the strategies discussed today? What are some other strategies that you're having success with?