Hey all,
Happy Friday (when I am writing this post)!
I have set up this flow in my Klaviyo account in order to automate a month-long Email Marketing sequence for customers who placed their First Order.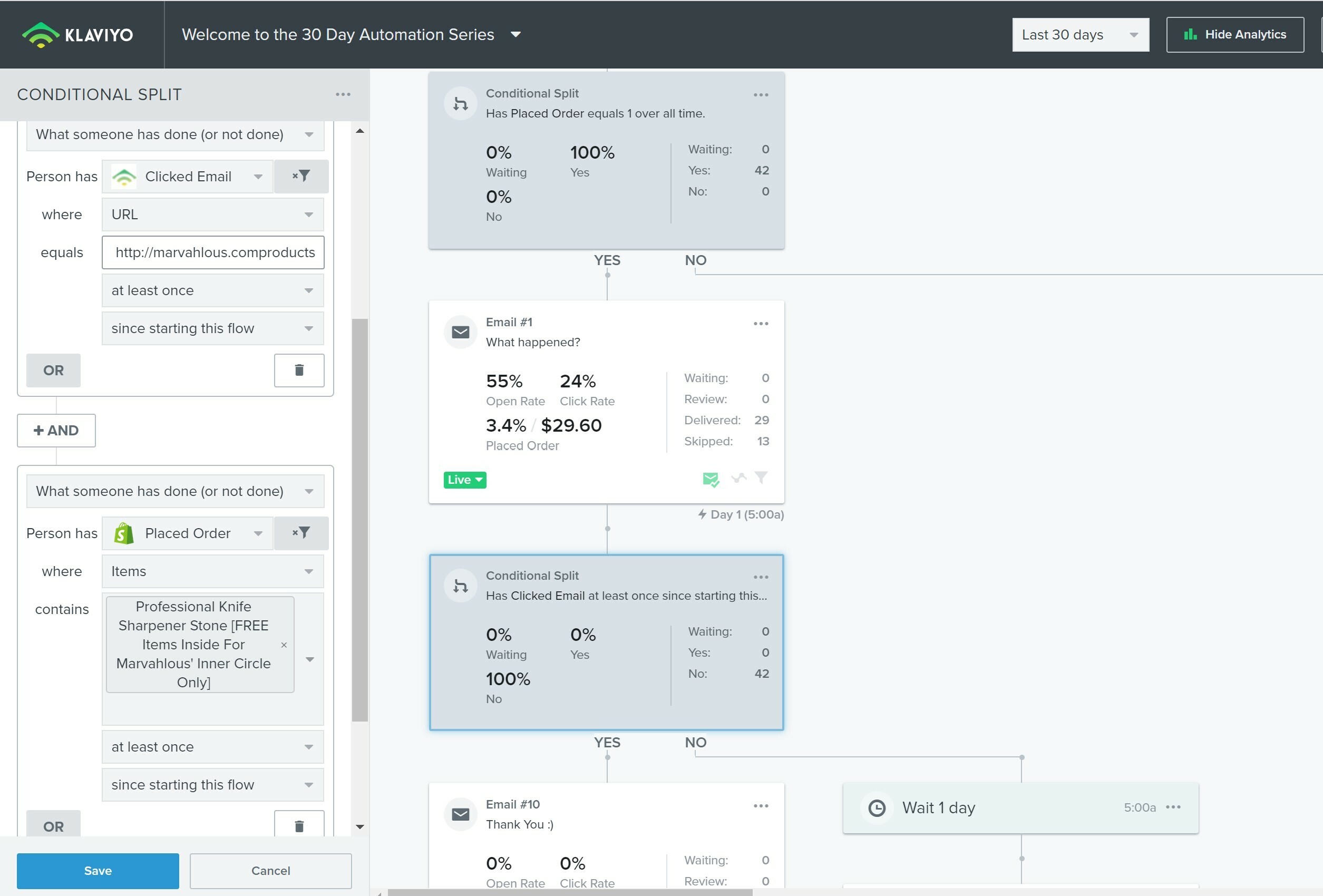 This image shows my thought process. However, I am starting to believe that maybe I did not set this up the right way because for the 3.4% of people who take me up on my offer, it should've been a "Yes" no? Instead I have a 100% "No" 
My worry: if customers who placed the order from Email #1 -- rather than getting a Thank You email (Email #10) after -- are still being sent to Day 2 (Email #2) where they are being advertised on the same promotion as Email #1, wouldn't that affect their LTV? 
I'm not sure what I am doing wrong, maybe the first condition is not right? Any insight on this guys?
Thanks for reading and giving me your time :)
Djedjy 
Best answer by Manny Singh 21 November 2020, 17:11
Hi Djedjy, 

3 things I noticed. 
First, it sounds like you don't want the subscriber to proceed if they placed an order after email 1.  If that's the case, you can remove the condition if they clicked the email AND bought that product. You'll be okay with just having the "Placed order since starting this flow" filter.
The second this is to add a time delay after Email #1 and before the condition split.  Right now, the time they get from email 1 to place an order and go through the condition is 0 min.  
Third, it looks like you have smart sending turned ON and this is a welcome series.  If you want ALL subscribers to receive these emails, turn OFF the smart sending on these emails. 
Hope that helps!
View original