Hello Everyone - I have Klaviyo integrated with Stripe & WooCommerce. I am trying to set up a transactional email once an order is placed to act as a receipt, similar to the auto-email Stripe sends immediately after a credit card is processed and order is placed. How can I automatically pull the information into an email template in Klaviyo, such as name, order ID, shipping address, total, etc from either WooCommerce directly or Stripe?
Thanks!
Best answer by Spark Bridge Digital LLC 25 May 2021, 13:53
Hey there!
If you create a Flow with your WooCommerce 'Placed Order' Metric as the trigger, you should have all of that dynamic info coming in that you can feed into your emails. 
Just did a test on my end and I do see all of those fields coming in that you listed.
You'll follow this guides to make your template:
https://help.klaviyo.com/hc/en-us/articles/115002779071-About-Using-Event-Variables-to-Personalize-Flows
But overall it'd end up looking something like this: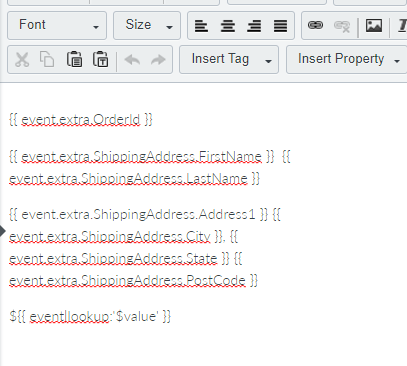 Just changing it up how you actually want it to be designed within the email. If you click Preview when you make the email, you'll see all of the fields you could pull into your template for that event.
Once you have this set-up though, you need to contact Klaviyo so that they can review and mark that message as transactional, so that it is always delivered!
Hope that helps!
View original