Hello Klaviyo community
I need to add to the subscribtion for follow the journey button but it will goes to email address with a tag of a brand name
I need to use klaviyo for that also for auto mate email
user can add to subscribe from follow the journey from 2 different brands from the same email address
if they already in the suscriber list then we will show a message like you email is already captured
product name should be a link so user can go to the product page from the vendor page
on the collection page under each brand we need to show some description , ex- agrain does have that but it won't show in the collections
Best answer by david.to 28 May 2021, 17:14
Hello @anjali3rde,
From what I've gathered, it sounds like you were looking to link a button on your website which allows customers to subscribe to a Klaviyo list which would also tag contacts with a specific brand and to trigger an automated flow for these subscribers. 
You can do so by either linking this button on your website with a list's specific Subscribe Page or by customizing your popup form to appear on a button click. With either options, you can have a hidden input tag passed by these forms that when a contact subscribes, they would be automatically tagged and added to a Klaviyo list. Next, you can then have an automated flow triggered by this list to be served out to these subscribers; this sort of flow is also oftentimes called a Welcome Series flow. 
Some other resources that may be helpful in achieving your goal are:
However, Klaviyo's signup form would not be capable of providing a message indicating to a contact that they are already an existing subscriber of the particiular list linked to the form. Our Product Team is aware of this feature request and I'll add your feedback to the existing notes we have on this topic. I'll update this thread when we are able to provide an update regarding this feature. 
Current alternatives for this would be utilizing the Klaviyo signup form behavior targeting setting of "Don't show to existing Klaviyo profiles". This setting would prevent the form from appearing for users who are identified through the Klaviyo Web Tracking cookie.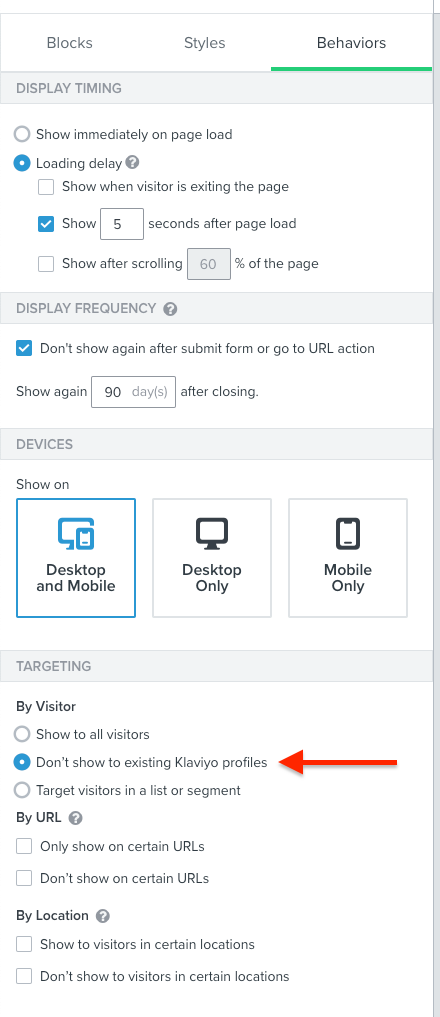 Another option you have would be the using a custom/legacy built signup form which has this functionality programmed as part of it. Since this would be a custom solution, we would recommend reaching out and working with developer you are familiar with or finding a Klaviyo partner who can assist in this endeavor. You can find some information regarding how to accomplish this from the following articles Klaviyo offers:
Thanks for being a member of the Community! Have a great day!
David
View original