tl;dr: I want to embed a simple, one-question survey on a flow email without people having to click away/load a page. Klaviyo doesn't seem to have a native way to do this, nor does it accept Google Form HTML embeds. Help! How can I achieve this?
------
I'm trying to get new customers to share how they found out about our brand (basically attribution or source of conversion) without them navigating away from the email so we can collect as many responses as possible.
The issue is that I can't seem to find any documentation that Klaviyo can do this.
Key things to note:
I only need one question answered; it can be either checkboxes or multiple choice.
This is the first email new customers will receive in a post-purchase

flow

I tried this with Google Forms (detailed belwo) but I don't need to use this.
I need to be able to easily view collated/total results (e.g. xx% of people answered option A etc) without having to manually intervene on counting or otherwise.
The first method I tried with Google Forms was embedding directly by copy/pasting the "iframe src" string as the source of a Klaviyo text block, which doesn't work. It looks okay in Edit Content mode, but when I preview the email on my phone it just says "Loading..." where the form should be.
The second method I tried with Google Forms was from an article for how to "hack" it (I used this one) by getting source code from gmail but that doesn't work either. Same issue where it looks okay in Edit Content mode, but it isn't interactive when I preview the email on my phone.
Screenshots for both methods are below.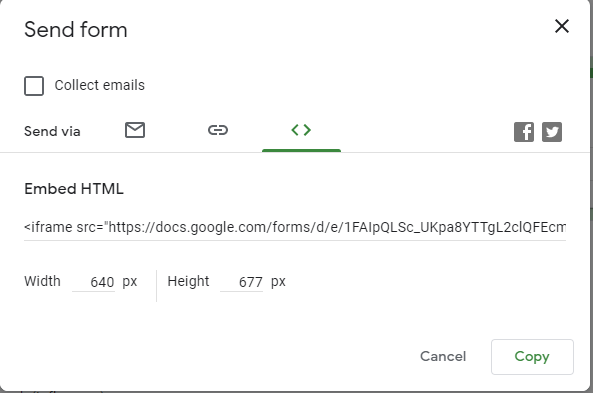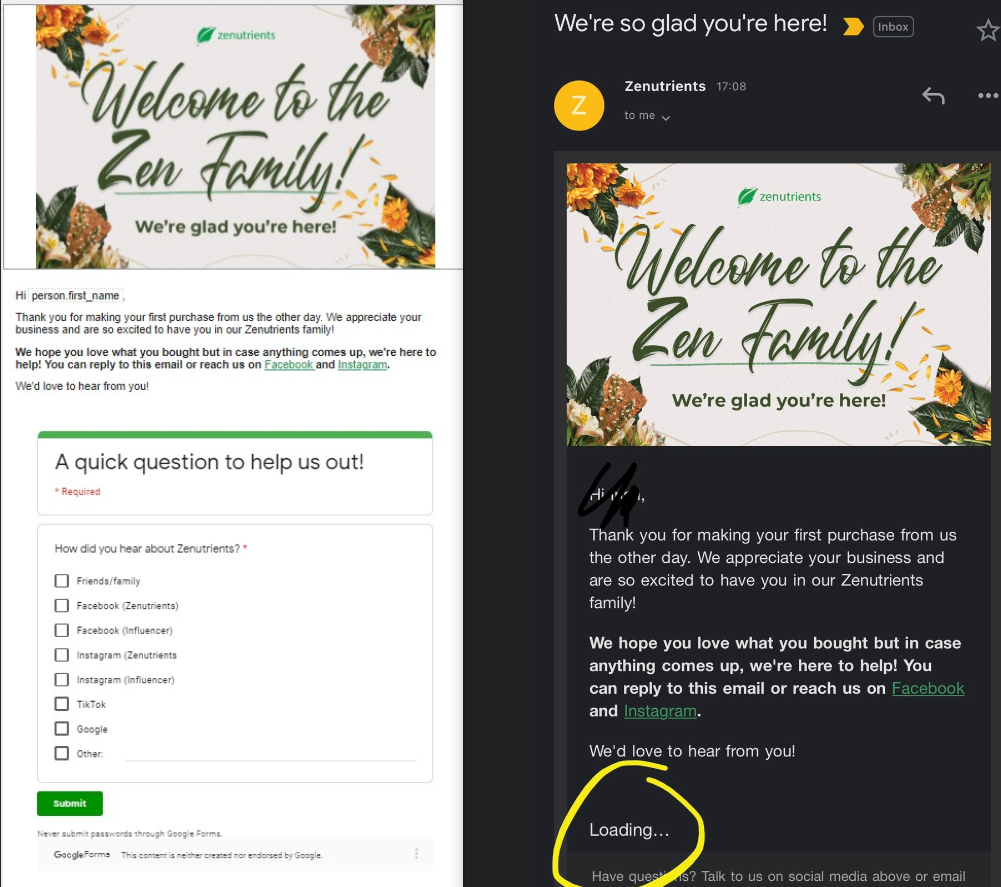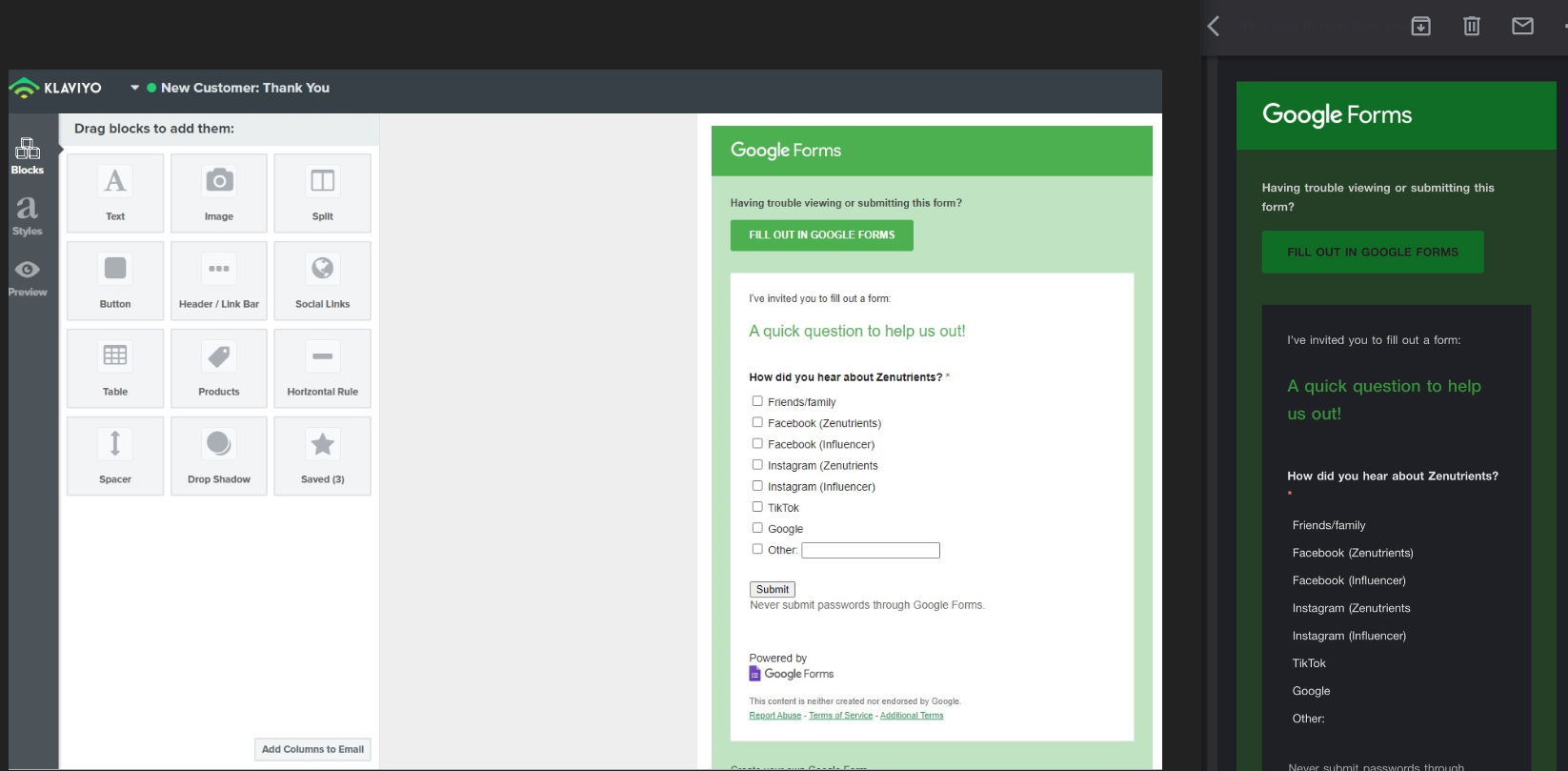 Is there a way for me to use a flow email to directly collect responses from new customers? Either via Google Form or better yet with a functionality that Klaviyo offers.
This is super important for us as we need to understand how new customers find us. We're activating a ton of different social media and marketing channels and this is a super easy way to get a big picture view on results.
Thanks in advance :)
Best answer by david.to 1 June 2021, 20:47
Hello @joannabko,
Thanks for sharing your question with the Klaviyo Community!
As detailed in the How to Embed Assets Directly in an Email article, due to how most inbox providers recognizing these embedded content as a security risk and have a low rate of rendering, embedded content is not supported within Klaviyo emails.
Most major email clients (such as Gmail) view embedded content such as surveys, forms, videos, and other widgets as a security threat. These email clients will often strip out this embedded code completely and your recipients will not see your content feature rendered when they open your email.

Klaviyo is committed to setting our customers up for success regarding email template creation and sending beautiful, responsive emails. Because our testing shows that these types of features do not reliably render across all major email clients, we don't support embedded surveys, forms, videos, or widgets inside of Klaviyo emails.
A reliable work around to collect information from your contacts surrounding the source they found your brand at would be using buttons, hyperlinks, images, etc. appended with the Update Profile Link function. Using this function within Klaviyo would allow you to simulate and build a survey directly within your emails. The only caveat to this feature would be that contacts who click on these buttons or links would be navigated to a respective URL you designate. This redirect would serve as a confirmation to your contacts that the button click was recorded successfully. To learn more about this feature, I would recommend taking a look at the How to Use Links to Collect Information About Your Recipients and Include Ratings Links or NPS Surveys in an Email articles Klaviyo offers as well as the below Community post surrounding this topic:
Hope this helps!
David
View original