Hi Community,
I'm struggling with custom Properties. Maybe it's to obvious to find? Would be nice if someone can give me an idea.
Situation: We use Shopify for 4 months and Klaviyo Integration since couple of days.
I want Klaviyo to add the customers first purchase date as profile property enrichment. This works like a charm for contacts who placed orders after Klaviyo was integrated into shopify. I want to add that custom profile property to all Klaviyo profiles that we collected before the Klaviyo integration and here i'm stuck. I don't know how to specify the contacts, nor how to get the date and write it to the profile.
Any help appreciated.
Thanks in advance.
Best answer by retention 12 February 2021, 19:41
@Sandra BM - In addition to what @PaulApostu mentioned so far for importing your data, you'll first need to get your historical "First Purchase Date" for those that came before the Klaviyo Flow profile property enrichment.
To do this, you may need to do some spreadsheet work to get this - I use Google Spreadsheet, but I'm sure there are similar functions in Excel.  First, I would Export Orders from Shopify, open it up into Google Spreadsheets and then sort it by "Created at" column in chronological order (Oldest Date at the Top) like this: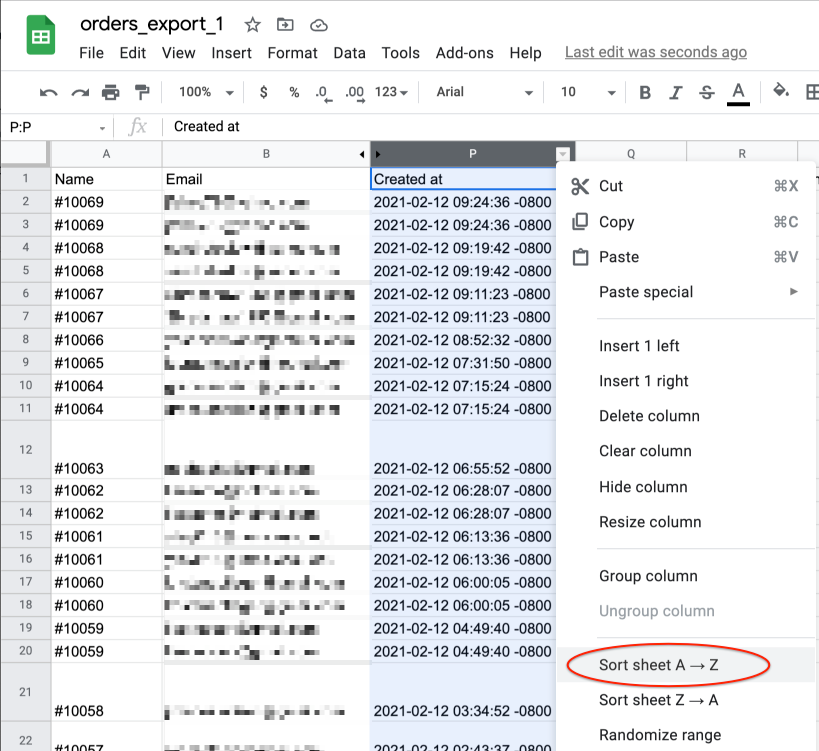 In Google Spreadsheet, there is a "Remove Duplicate" function that will remove duplicates after the first instance in the list - use the email address as the column to search for duplicates.
To clean it up, I would remove all the other Shopify columns and just keep the Email Address, and the First Order Date and then export the spreadsheet into a CSV file.
Now you have a clean list of emails, with their first order date, and you can upload the CSV file and map it to your Klaviyo First Purchase date custom property.
Hope this helps!
View original