I captured someones email from having a popup when you land on my homepage although it doesnt show up in my "Newsletter" list that i have a new email captured. 
Best answer by retention 8 December 2020, 11:55
@elumestemcell Hi there!

Assuming that you're using Klaviyo's Signup Form, the first thing you need to confirm is that the Signup Form you're using is connected to the correct (in your case "Newsletter") list.

You can do that by clicking on the submit button in your Signup Forms and check what are the action settings after someone click the button.
 


If this is is set correctly, the other reason why people that subscribe are not being placed in your "Newsletter" list is because of the Double Opt-in process.

If you have Double Opt-in enabled for your "Newsletter" list, after someone subscribes they will receive a confirmation email where they have to confirm their subscription before they're placed to your List. A lot of subscribers doesn't go the extra step to confirm their subscription and that's why they're never placed to your list.

You can test to see if this is your case by subscribing to your form, and see if you'll receive the "Confirmation Email" (check Promotional or even the Spam folder in your Email). If you do receive it, and after confirming you get subscribed to your "Newsletter" list, than you need to disable Double Opt-In for that List if you want to skip the confirmation email and place subscribers directly into the list after they subscribe.
Here are more details about Double Opt-In process:
The Double Opt-in feature in Klaviyo is hidden from the settings by default for free plan. If you are on a paid plan in Klaviyo, you can submit a request to enable this option for your account here: Klaviyo Contact Form.
Ask Klaviyo support team to reveal that option for you, so you can toggle Double Opt-in on and off for each of your lists.
After you get a confirmation that the option is enabled for your account, navigate to the List for which you want to turn off the Double Opt-in. Open the list and click on "Settings". Uncheck the "Require subscribers to confirm their subscription before being added to your list." option.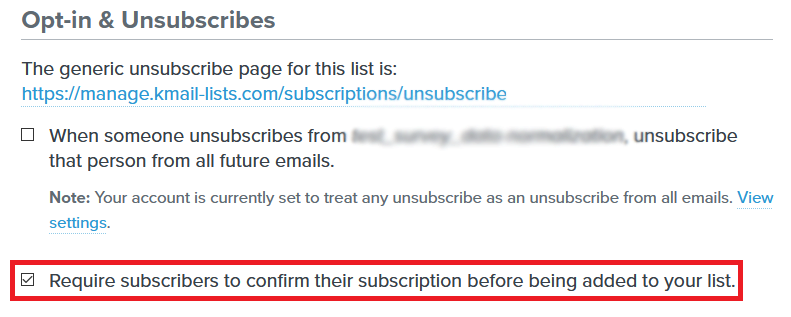 After you uncheck this option, Klaviyo will stop sending the Double Opt-in Emails to the subscribers joining that List.
Here is the documentation from Klaviyo on Double Opt-in: The Double Opt-In Process

Hope this helps!
View original