Hello everyone,
Does Klaviyo provide conversion rates for each link with an email?
If not, I'd love to see a conversion rate provided in the link activity page of a Campaign.
Best answer by julie.accardo 6 June 2021, 16:24
Hi @Andrew.Walters,
At this time we do track conversions for each link clicked in an email. Klaviyo uses a last-touch attribution model where the last email opened or clicked is credited with a conversion if one takes place within the attribution window set in your account settings. 
You can, however, create segments to identify who is clicking the links and has placed an order from a given campaign. You would fill in the blanks with the campaign name, the URL of the link, and the campaign name.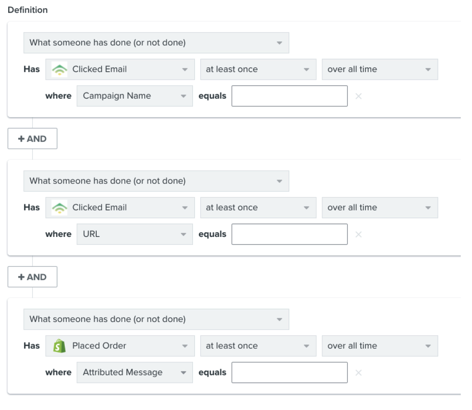 If you want to be sure that the customers did not also click another link in the campaign, you could add this definition as well, where the blank would be the other URLs in the campaign. You would need to set up multiple of these, if the Campaign had multiple additional links:

I can certainly go ahead and submit a product enhancement to our product team.
Have a nice weekend!
Julie
View original