We have recently updated our email icon/logo in Google Admin to what you see in the preview below.
But when we send our campaigns it says the link is broken. I have 2 accounts with the same problem. It has worked fine for the last 3years until we recently updated the image.
In Gmail
Is there a way to set the icon within Klaviyo?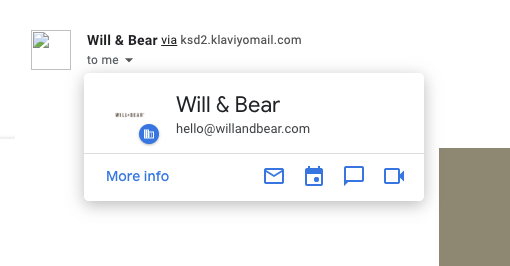 In Outlook
How do i make it show up in outlook?

Best answer by Dov 25 June 2021, 16:01
Hi @Alex Knorr,
Thanks for sharing your question with the Klaviyo Community.
I'm afraid Klaviyo cannot control what logos appear for various inbox providers. With respect to the broken image, I recommend double-checking that it is a valid image URL and a support image type for Gmail.  Here is the guide for updating the profile picture in Outlook. 
Additionally, you can set-up a logo locally in your Klaviyo account by following our guide How To Add a Photo to Your Klaviyo Account with Gravatar. Please note that, while updating your Gravatar will update your Klaviyo profile picture, updating your Gravatar will not update your Gmail Favicon/profile picture. You'll need to update your Gmail Favicon/profile picture directly in your Gmail account.
Thanks and have a great weekend.
View original