If you've set Shopify tags to be assigned to customer profiles after they signup for your newsletter, or through Shopify's back end, you're probably wondering where you can view these tags in Klaviyo.
These tags are assigned to profiles as custom properties. You can see what tags have been assigned to a particular profile or to a group of customers. 
To view an individual customer's Shopify tags, click into their profile and scroll down to the Information box. If Shopify tags have been setup, you will see them noted under the Custom Properties section on their profile: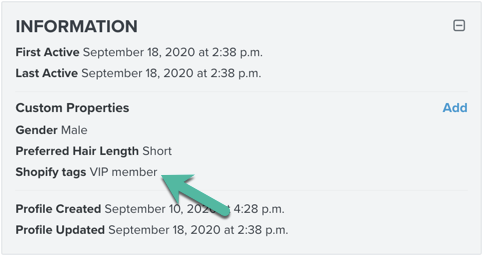 If you want to see a group of customers that have a particular tag(s), you can create a segment of these profiles using the "Properties about someone" definition:
Fill in the "dimension value" box with the name of your Shopify tag. Note that the spelling of the tag needs to exactly match the spelling as it gets assigned to your customer profiles (i.e. VIP member versus VIP Members). If theres a spelling error when you type in the name of your tag, no one will be pulled into your segment!