Hi Community! I'm Ashley, and today I'm sharing some of my favorite tips for WooCommerce stores looking to get started with Klaviyo. 
WooCommerce is one of the most popular ecommerce platforms out there, and it enables merchants to  extend the functionality of their websites through plugins and custom coded solutions. Though the platform is open-source, most integrations can be completed with just a few clicks, making it approachable to users who may not have a technical background. Klaviyo offers a seamless one-click integration that allows brands to sync all historical and real-time data from their WooCommerce store into Klaviyo.
In the second half of 2022, my team had the pleasure of engaging with a brand on WooCommerce who was looking to migrate their email marketing from MailChimp to Klaviyo. Prior to working with us, this apparel brand struggled to send campaigns on a recurring basis, their Welcome Series and Abandoned Cart flows were not performing well, and they felt that their email platform was not as fully integrated with their website as they would like it to be.
Today, I'd like to walk you through how we put them on the path to success with Klaviyo. 
Integrating Klaviyo with your WooCommerce store

The very first thing we did for this brand was to set them up with a new Klaviyo account that could be integrated with their WooCommerce storefront, and we migrated their historical email marketing data. By integrating WooCommerce with Klaviyo, you are able to automate email flows and track customer behavior all in one place. 
To begin, we installed the Klaviyo plugin to the site and connected the brand's account by following the steps outlined in this Help Center guide. With other platforms, like Shopify and BigCommerce, an additional step is required to enable Viewed Product and Active on Site tracking. For WooCommerce, this onsite tracking is added automatically when you integrate!
Klaviyo also makes it easy to collect consent at checkout with WooCommerce. When setting up your integration, you can select the "Add email marketing consent checkbox to your checkout page" option, and you can customize the verbiage you want subscribers to see when opting in. If your brand is also leveraging Klaviyo's SMS marketing capabilities, you can similarly add an option at checkout to collect SMS subscribers. Note that this will require a separate opt-in and disclosure from your email subscriber collection. 
The importance of migrating historical subscriber data
For WooCommerce brands who are migrating from another ESP to Klaviyo, you will need to take a few extra steps to ensure that all of your historical email data has been appropriately recorded in your new Klaviyo account. For some popular ESPs, like MailChimp and Constant Contact, Klaviyo offers a direct integration via the account's API key that will sync historical data in just a few minutes. After this integration is complete, it's important to confirm all the appropriate data is populating in your Klaviyo account. This includes email engagement, unsubscribes, lists, and basic fields like name and email address.
Not every detail can be carried over automatically to your new Klaviyo account via an integration. For some fields, you may need to manually export these from your old ESP and import them to Klaviyo as custom properties. This was the case for MailChimp tags, a segmentation tool used by the brand we were assisting. The same export/import method was also needed to transfer email templates to the new account.
Once you have your data migrated, the final steps would be to adjust any onsite displays or opt-in tools you had previously configured with your old ESP. This can include:
popups

subscriber collection at checkout

other embedded forms that appear on your site
You should continue to monitor your old ESP account for a short period of time after the migration to ensure that no new subscribers are being added there. This is also an excellent time to make sure you haven't missed any important historical data or profile properties as you start to build segments and lists in your new Klaviyo account. 
Using high engagement flows in account warming
At this point, you might be thinking that you're ready to hit the ground running with your email campaigns. However, before you start sending to large groups of subscribers, it's important to warm your account. Klaviyo makes it easy to warm your sending infrastructure with guided warming. This takes all the guesswork out of navigating best practices and setting yourself up for better deliverability. By following guided warming, Klaviyo will automatically make recommendations for which group of users should receive your first few campaigns. These subscriber groups start small and gradually get larger as you record positive deliverability metrics, like high opens, high clicks, low bounce rates, and low spam complaints.and low bounce and spam complaints. 
During account warming, I also recommend setting up high engagement flows to help to ramp up, including: Welcome Series, Abandoned Cart, and Browse Abandonment flows. Unlike campaigns which are sent to a large group of users at once, flows are sent to individual users as the triggers are met. In the same way that guided warming works to send to a select group of engaged users first, flows also help to target users who have recently taken action on your site. When it comes to high engagement flows, these are the messages that have the highest likelihood of being opened and clicked. For brands migrating from another ESP, it is also possible to carry over email templates from historical flows in your old account into Klaviyo. Once fully migrated, the old flows can be turned off in your previous account to avoid duplicate messages. It's important to make sure that your Abandoned Cart recovery messages in WooCommerce have been disabled as well.
Klaviyo + WooCommerce = success!
After graduating from guided warming, you are ready to unleash the full potential of your Klaviyo account! There are a few key areas I recommend looking at first:
Plan your future campaign sending cadence

Create advanced customer segments

Turn on higher risk flows (i.e. lower engagement flows, like Customer Winback)

Explore the custom reporting tools

Implement A/B tests

After just a few months of using Klaviyo and following our best practices, this WooCommerce merchant saw a 152% increase in owned revenue! On top of that, they now have better visibility into their deliverability metrics and can make more informed decisions about how to allocate their resources. Using Klaviyo also allowed this brand to create better synergies between their other marketing channels, and we observed an increase in total revenue across the board because of these enhanced strategies!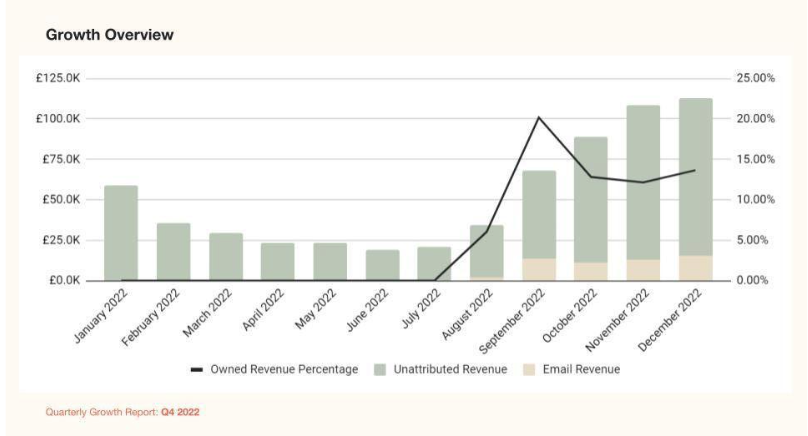 Final thoughts for the Community
If you have a WooCommerce store and are wondering which platform is the best fit for you, I would highly consider scheduling a demo with Klaviyo! In terms of ease of use and integrations, you will be hard pressed to find a better solution for your email and SMS marketing efforts. If you are migrating from a previous ESP, Klaviyo also makes it simple to carry over all of your historical subscriber data when you make the switch. 
-@Ashley I (Ashley Ismailovski)
Learn more about me on my Champion profile page!
---
Learn more from Ashley and other resources to keep learning: